SHV reported an underlying 1H23 EBITDA loss of -$55.6m. Key points below.
Operating results: Revenue of $60.9m was down -11% YOY (vs. BPe $85.3m). Operating EBITDA loss of -$55.6m compares to an EBITDA gain of $17.7m in 1H22 and our forecast loss of -$17.9m, with higher costs the main driver of the shortfall. 1H23 underlying EBITDA has been adjusted to reflect a component of crop losses for the typical half year recognition pattern.
Crop assumptions: 1H23 results are predicated on a crop of 17,500t (vs. BPe of 17,500t and guidance of ~17,500t) and an almond price assumption of A$7.45/Kg (vs. BPe at A$7.40/Kg and guidance at A$7.40-7.80/Kg which is unchanged).
Cashflow and balance sheet: Post lease operating cash outflow of $37.4m compares to an inflow of $4.2m in 1H22. Reported net debt of $189.9m compares to net debt of $134.5m at FY22 (and $125.8m at 1H22). SHV anticipates being operating cashflow positive in 2H23e.
Outlook: Key outlook comments include: (1) 2H23e Reported PBT is anticipated to be a smaller loss with crop adjustments reflected in 1H23; (2) the FY24 crop is expected to rebound with the benefit of lower fertiliser costs; and (3) SHV has initiated a number of projects with a target of a $20m+ uplift in profitability and a ~$30m cash benefit. To date SHV has generated an annualised run-rate of $4m and $8m, respectively.
We have increased our forecast EBITDA loss in FY23e, while also reducing EBITDA by -17% in FY24e and -10% in FY25e. Our $5.50ps target price is unchanged after incorporating the benefits of the Horizon program in outward years.
Investment view: Buy rating unchanged
Our Buy rating remains unchanged. FY23e looks a write-off, however, cost pressures (i.e. fertiliser and ag-chem) have already demonstrated signs of peaking and Californian acreage signals imply a slowing in global supply growth in outward years that traditionally leads a firming almond price. SHV is also trading well below its market NAV (~$6.00ps).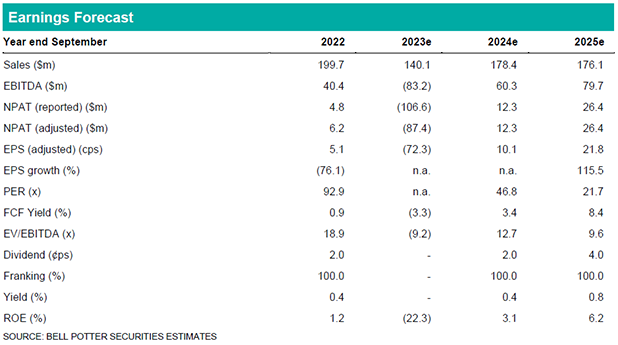 Authored by Jonathan Snape – Analyst – at Bell Potter Securities, 29 May 2023
Important Disclaimer—This may affect your legal rights: Because this document has been prepared without consideration of any specific client's financial situation, particular needs and investment objectives, a Bell Potter Securities Limited investment adviser (or the financial services licensee, or the proper authority of such licensee, who has provided you with this report by arrangement with Bell Potter Securities Limited) should be consulted before any investment decision is made. While this document is based on the information from sources which are considered reliable, Bell Potter Securities Limited, its directors, employees and consultants do not represent, warrant or guarantee, expressly or impliedly, that the information contained in this document is complete or accurate. Nor does Bell Potter Securities Limited accept any responsibility to inform you of any matter that subsequently comes to its notice, which may affect any of the information contained in this document. This document is a private communication to clients and is not intended for public circulation or for the use of any third party, without the prior approval of Bell Potter Securities Limited. In the USA and the UK this research is only for institutional investors. It is not for release, publication or distribution in whole or in part to any persons in the two specified countries. This is general investment advice only and does not constitute advice to any person.
Disclosure of Interest: Bell Potter Securities Limited receives commission from dealing in securities and its authorised representatives, or introducers of business, may directly share in this commission. Bell Potter Securities and its associates may hold shares in the companies recommended.