IRCC approval of other English tests for the SDS in Canada
Immigration, Refugees and Citizenship Canada (IRCC) has announced the approval of several other English language tests (CAEL, PTE Academic, TOEFL iBT and CELPIP General) for the Student Direct Stream (SDS) visa program starting from 10 August 2023. Previously, only IELTS was accepted. SDS is an expedited study permit process for students applying to study in Canada from ~14 countries. In 2022 IRCC finalised ~739k study permit applications. We estimate that ~45% of these are via the SDS and the test is taken ~1.7x on average equating to ~500-600k IELTS exams p.a.
We revise our forecasts for this announcement, noting that our English language testing volumes were already conservative factoring in lost IELTS market share in both India and Canada. We assume market share losses of ~30% in this market or ~110k tests and an additional ~50k in other markets. The net result is flat IELTS volume growth in FY24e and 5% growth in FY25e. IDP has stated that the IRCC's decision is not expected to have a material impact on the Company's FY23 revenue or earnings so there is no change to our FY23e IELTS volumes. We have also slightly increased our opex in FY24 to account for higher expected marketing spend. The net result was EPS downgrades of -7.0% and -7.4% in FY24-25e. We have also modestly reduced our DPS forecasts by ~-4.3% in FY24e and FY25e.
Investment view: PT -8.7% to $27.40, Upgrade to Buy
We have updated each valuation used in the determination of our price target for the forecast changes as well as market movements and time creep. There are no changes to the multiple we apply in our EV/EBIT valuation of 29.1x or WACC of 8.0% in our DCF valuation. The net result is a -8.7% decrease in our PT to $27.40 which is a >15% premium to the current share price so we upgrade our recommendation to a Buy. Whilst this is not positive news for the Company, we had already factored in some market share losses and still anticipate strong growth in the student placement business driven by structural tailwinds and product innovation.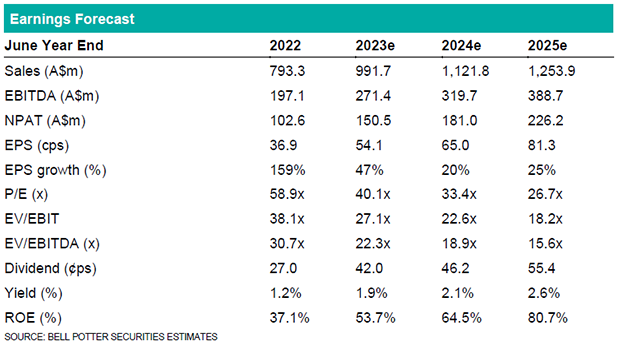 Authored by Olivia Hagglund – Analyst – at Bell Potter Securities, 30 May 2023
Important Disclaimer—This may affect your legal rights: Because this document has been prepared without consideration of any specific client's financial situation, particular needs and investment objectives, a Bell Potter Securities Limited investment adviser (or the financial services licensee, or the proper authority of such licensee, who has provided you with this report by arrangement with Bell Potter Securities Limited) should be consulted before any investment decision is made. While this document is based on the information from sources which are considered reliable, Bell Potter Securities Limited, its directors, employees and consultants do not represent, warrant or guarantee, expressly or impliedly, that the information contained in this document is complete or accurate. Nor does Bell Potter Securities Limited accept any responsibility to inform you of any matter that subsequently comes to its notice, which may affect any of the information contained in this document. This document is a private communication to clients and is not intended for public circulation or for the use of any third party, without the prior approval of Bell Potter Securities Limited. In the USA and the UK this research is only for institutional investors. It is not for release, publication or distribution in whole or in part to any persons in the two specified countries. This is general investment advice only and does not constitute advice to any person.
Disclosure of Interest: Bell Potter Securities Limited receives commission from dealing in securities and its authorised representatives, or introducers of business, may directly share in this commission. Bell Potter Securities and its associates may hold shares in the companies recommended.