Strong quarter ahead of our expectations
Life360 reported 1Q2023 results that were ahead of our expectations on all key metrics: Paying circles up 73k q-o-q to 1.6m (vs BPe up 35k); Average revenue per paying circle of US$121 (vs BPe US$116); Annualised monthly revenue (excl. hardware) of US$239.5m (vs BPe US$235m); Global monthly users up 5% q-o-q to 50.8m (vs BPe 50.3m); Revenue up 34% y-o-y to US$68.1m; Adjusted EBITDA US$0.5m (positive figure achieved one quarter ahead of expectations); and Cash at 31 March of US$76.1m (vs BPe US$70 75m). The company reiterated its 2023 guidance. Operating cash flow in Q1 was an outflow of US$(9.2)m but this was expected and the company reiterated it expects to be operating cash flow positive from Q2 onwards.
Upgrade in 2023 forecasts to above guidance
We have upgraded our 2023 revenue and adjusted EBITDA forecasts by 2% and 42% to US$312.6m and US$10.5m. Notably our forecasts are now ahead of the guidance of US$300-310m for revenue and US$5-10m for adjusted EBITDA. We now see potential for an upgrade to the guidance later in the year. There is little change, however, in our 2024 and 2025 forecasts which already assume strong growth. We continue to forecast mid to high teens percentage growth in revenue in 2024 and 2025 and at least a doubling of adjusted EBITDA in each period.
Investment view: PT up 3% to $9.00; Maintain BUY
We have updated each valuation used in the determination of our price target for the forecast changes as well as market movements, exchange rate changes and time creep. There are no changes in the key assumptions we apply which are a 3.0x multiple in the EV/Revenue and 9.4% WACC and 5.0% terminal growth rate in the DCF. The net result is a 3% increase in our PT to $9.00 which is >15% premium to the share price so we maintain our BUY recommendation. The next potential catalyst is the release of the Q2/H1 results in September where despite a likely decrease in paying circle growth in Q2 – due to the Android price increases – we expect another good quarter and importantly positive operating cash flow.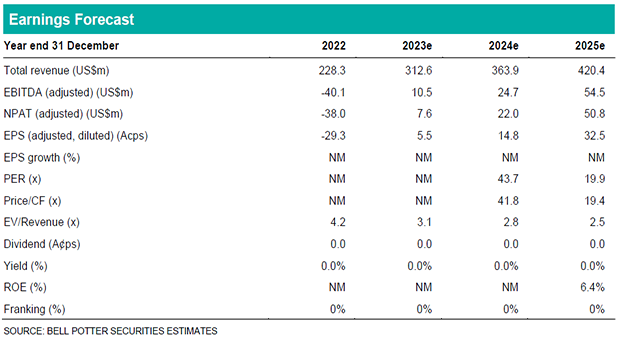 Authored by Chris Savage – Analyst – at Bell Potter Securities, 16 May 2023
Important Disclaimer—This may affect your legal rights: Because this document has been prepared without consideration of any specific client's financial situation, particular needs and investment objectives, a Bell Potter Securities Limited investment adviser (or the financial services licensee, or the proper authority of such licensee, who has provided you with this report by arrangement with Bell Potter Securities Limited) should be consulted before any investment decision is made. While this document is based on the information from sources which are considered reliable, Bell Potter Securities Limited, its directors, employees and consultants do not represent, warrant or guarantee, expressly or impliedly, that the information contained in this document is complete or accurate. Nor does Bell Potter Securities Limited accept any responsibility to inform you of any matter that subsequently comes to its notice, which may affect any of the information contained in this document. This document is a private communication to clients and is not intended for public circulation or for the use of any third party, without the prior approval of Bell Potter Securities Limited. In the USA and the UK this research is only for institutional investors. It is not for release, publication or distribution in whole or in part to any persons in the two specified countries. This is general investment advice only and does not constitute advice to any person.
Disclosure of Interest: Bell Potter Securities Limited receives commission from dealing in securities and its authorised representatives, or introducers of business, may directly share in this commission. Bell Potter Securities and its associates may hold shares in the companies recommended.