Transfer of coverage; positive view maintained
We have transferred analyst coverage of MAD, with our investment thesis unchanged. Our Hold recommendation is underpinned by a favourable medium-term outlook, recognising MAD's mature and profitable Australian operations and fast-growing North American business. We also recognise that MAD stands to benefit from further diversification of earnings streams, with respect to geography, services provided, customer base and commodity exposure, as the company executes its international growth strategy and expands its service offerings to existing customers. We see MAD's strong balance sheet supporting its organic growth ambitions in addition to paying a recurring dividend. However, we view MAD's FY23e P/E of 18.3x as fair value, and therefore maintain our Hold recommendation. To reflect higher operational and interest costs we have downgraded our EPS forecast by -3% in FY22e; -9% in FY23e; and -9% in FY24e.
We expect MAD can meet its FY22e guidance for revenue of >$370m (BPe $386m) and NPAT of >$24.0m (BPe $24.4m). MAD's annualised Q3 FY22 revenue run-rate was $392m and we expect a continuation of record quarterly revenue performance into Q4 FY22e, supported by strong demand for heavy mobile equipment maintenance services. Despite mounting cost pressures in the Australian mining industry, we see MAD's revenue outperformance supporting its NPAT outlook.
Investment thesis: Hold, TP$2.65/sh (prev. $3.10/sh)
We continue to forecast a strong medium-term earnings outlook for MAD, however, we believe the company is fairly valued at the current share price. This earnings outlook is underpinned by ongoing expansion of MAD's core service offerings into new, large markets, including the United States' mining and energy sectors and Canada. These growth opportunities complement the company's mature Australian business, where management have demonstrated a track record of consistent annual revenue growth and stable margins in recent years. The company's balance sheet is capable of funding its growth ambitions and supporting future dividends within its stated policy.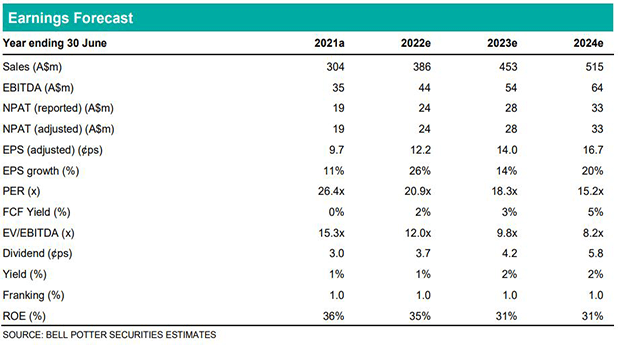 Authored by Joseph House – Analyst – at Bell Potter Securities, 27 June 2022
Important Disclaimer—This may affect your legal rights: Because this document has been prepared without consideration of any specific client's financial situation, particular needs and investment objectives, a Bell Potter Securities Limited investment adviser (or the financial services licensee, or the proper authority of such licensee, who has provided you with this report by arrangement with Bell Potter Securities Limited) should be consulted before any investment decision is made. While this document is based on the information from sources which are considered reliable, Bell Potter Securities Limited, its directors, employees and consultants do not represent, warrant or guarantee, expressly or impliedly, that the information contained in this document is complete or accurate. Nor does Bell Potter Securities Limited accept any responsibility to inform you of any matter that subsequently comes to its notice, which may affect any of the information contained in this document. This document is a private communication to clients and is not intended for public circulation or for the use of any third party, without the prior approval of Bell Potter Securities Limited. In the USA and the UK this research is only for institutional investors. It is not for release, publication or distribution in whole or in part to any persons in the two specified countries. This is general investment advice only and does not constitute advice to any person.
Disclosure of Interest: Bell Potter Securities Limited receives commission from dealing in securities and its authorised representatives, or introducers of business, may directly share in this commission. Bell Potter Securities and its associates may hold shares in the companies recommended.