TSK reported a 2Q24 update outlining continued strong momentum regarding client wins, deployments and cash flows. These included: (1) expansion into the Taiwan market via the Plexure division, a significant market for McDonalds in Asia; (2) implementation of its solution into Retail Food Group's (RFG, Buy rated) Crust business via the TASK division following deployments in Q1; and (3) further contract wins across North America and Australia. TSK generated NZ$12m in operating cash flows for the quarter (with the benefit of upfront annual payments within Plexure), following a NZ$5.9m cash outflow in Q1, to end the period with NZ$31m.
Payments processing progressing
TSK acquired payments software IP in Apr '23 with the aim to develop and integrate the solution within its own suite and extend its end-to-end capabilities further; the rationale being a payments capability would create a key competitive advantage via reduction in suppliers a customer is exposed to and further value-added service delivery. TSK views the opportunity as representing an "attractive revenue stream" and anticipates commercialisation of the platform over the next ~6-12 months.
The payments solution is now certified in NZ and ~70% complete in Australia, with certification having commenced in USA to be followed by Europe and Asia.
Investment view: Buy, Target Price $0.57/sh (prev. $0.62/sh)
We maintain our Buy recommendation and make no changes to our estimates, however we reduce our EV/EBITDA multiple in line with its cohort which affects a reduction in our Target Price to $0.57/sh. While exposed to the consumer, TASK operates on an enterprise licensing model and not on a per-transaction basis. Plexure revenue largely relates to traffic on its GMA-lite platform. Our recommendation is based on its exposure to future-facing industry trends, unique end-to-end solution suite, and free cash flow profile which can fund investment in operations, product development and targeted growth opportunities.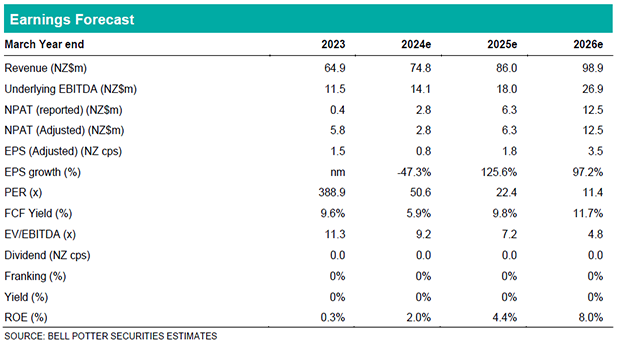 Authored by Michael Ardrey – Analyst – at Bell Potter Securities, 30 October 2023
Important Disclaimer—This may affect your legal rights: Because this document has been prepared without consideration of any specific client's financial situation, particular needs and investment objectives, a Bell Potter Securities Limited investment adviser (or the financial services licensee, or the proper authority of such licensee, who has provided you with this report by arrangement with Bell Potter Securities Limited) should be consulted before any investment decision is made. While this document is based on the information from sources which are considered reliable, Bell Potter Securities Limited, its directors, employees and consultants do not represent, warrant or guarantee, expressly or impliedly, that the information contained in this document is complete or accurate. Nor does Bell Potter Securities Limited accept any responsibility to inform you of any matter that subsequently comes to its notice, which may affect any of the information contained in this document. This document is a private communication to clients and is not intended for public circulation or for the use of any third party, without the prior approval of Bell Potter Securities Limited. In the USA and the UK this research is only for institutional investors. It is not for release, publication or distribution in whole or in part to any persons in the two specified countries. This is general investment advice only and does not constitute advice to any person.
Disclosure of Interest: Bell Potter Securities Limited receives commission from dealing in securities and its authorised representatives, or introducers of business, may directly share in this commission. Bell Potter Securities and its associates may hold shares in the companies recommended.