AGM commentary and trading update
CSS's AGM highlighted a more sombre trading update that we would have expected, with sales volumes broadly flat YOY and frozen inventories building. Key points:
Sales, harvest and biomass: 1Q24 sales volumes were down -1% YOY and running at an annualised rate below FY23 levels. Harvest volumes were up +23% YOY and biomass at sea was up +10% YOY. Frozen inventories climbed +44% QOQ to 540t. The uplift in Frozen inventories follows a +98% HOH uplift in 2H23 and is a pattern we would ideally like to see reverse over the remainder of FY24e.
Pricing: Average 1Q24 selling prices were up +4% YOY to $22.62/Kg, but down -2% relative to average 2H23 pricing of $23.02/Kg.
Commentary: We note comments that challenging market conditions have persisted throughout 2023, appears more sombre than outlook comments at the FY23 result.
We have reviewed our forecast in light of softer 1Q24 sales volumes trends and easing HOH selling prices from historically high levels. With growing harvest volumes and biomass, we continue to project YOY volume growth albeit at a lower average price point. The net effect is Operating EBITDA downgrades of -35% in FY24e, -24% in FY25e and -21% in FY26e. Our target price is downgraded to $0.48ps (prev. $0.60ps) reflecting a narrowing in gross margin targets and adoption of a higher WACC hurdle (based on a high higher risk free rate).
Investment view: Downgrade to Hold
We downgrade our rating from Buy to Hold. The growth in inventories seen in 1Q24 continues a trend that was observable in 2H23 and needs to be considered in the context of both CSS and TKC expanding biomass at sea. Trading at ~20x FY24e EBITDAS, we see the share price as balancing current operating earnings and the upside from developing the asset base further. While not discounting the turnaround to date, a further re-rating in the CSS share price would likely require a resumption profitable sales volume growth.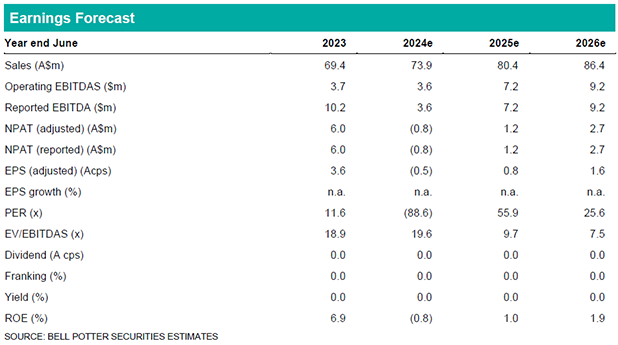 Authored by Jonathan Snape – Analyst – at Bell Potter Securities, 27 October 2023
Important Disclaimer—This may affect your legal rights: Because this document has been prepared without consideration of any specific client's financial situation, particular needs and investment objectives, a Bell Potter Securities Limited investment adviser (or the financial services licensee, or the proper authority of such licensee, who has provided you with this report by arrangement with Bell Potter Securities Limited) should be consulted before any investment decision is made. While this document is based on the information from sources which are considered reliable, Bell Potter Securities Limited, its directors, employees and consultants do not represent, warrant or guarantee, expressly or impliedly, that the information contained in this document is complete or accurate. Nor does Bell Potter Securities Limited accept any responsibility to inform you of any matter that subsequently comes to its notice, which may affect any of the information contained in this document. This document is a private communication to clients and is not intended for public circulation or for the use of any third party, without the prior approval of Bell Potter Securities Limited. In the USA and the UK this research is only for institutional investors. It is not for release, publication or distribution in whole or in part to any persons in the two specified countries. This is general investment advice only and does not constitute advice to any person.
Disclosure of Interest: Bell Potter Securities Limited receives commission from dealing in securities and its authorised representatives, or introducers of business, may directly share in this commission. Bell Potter Securities and its associates may hold shares in the companies recommended.