Scenesse growth, profits expected to continue
Clinuvel (CUV) is one of very few ASX-listed biopharma companies directly commercialising novel pharmaceuticals across the US and EU in a highly profitable manner. Clinuvel distributes Scenesse, the only approved treatment for patients suffering from a rare inherited disease called erythropoietic protoporphyria (EPP). Sales of Scenesse have grown at a 3-year CAGR of 34% to A$78m in FY23. Clinuvel's direct distribution model has resulted in seven consecutive years of profitability, with an EBIT margin between 52-53% over the last three financial years. With no alternative EPP treatments expected for at least another three years, revenue growth and high margins are expected to continue in the near-term.
Diversification beyond EPP
Clinuvel is conducting a range of pharmaceutical R&D activities and new product launches to diversify its commercial opportunities beyond EPP, including: (1) expanding the approved indications of Scenesse, such as in vitiligo, XP, VP and stroke; (2) developing additional melanocortin pharmaceuticals, such as the generic drug Neuracthel; and (3) launching a range of topical 'PhotoCosmetic' consumer products over the next 2-3 years.
Investment view: Initiate with a BUY; PT $24.00 
Our valuation is based on a 75:25 weighted average of (1) risk-adjusted DCF and (2) EV/EBITDA multiple analysis. We expect continued free cash flow growth in the nearterm without any competition in EPP for at least three years. Clinuvel has multiple development streams ongoing to drive medium to long-term growth, for which we expect approval of Scenesse in vitiligo (~FY28) and launch of Neuracthel (~FY27) to be the largest potential growth drivers.
Based on our DCF forecast, the current CUV share price ascribes only a modest ~$50m in value to Clinuvel beyond the EPP franchise.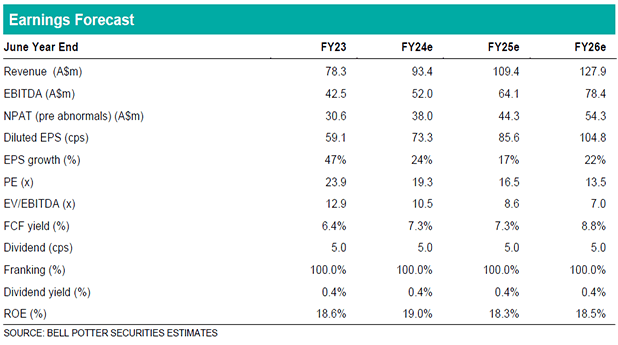 Authored by Thomas Wakim – Analyst – at Bell Potter Securities, 4 October 2023
Important Disclaimer—This may affect your legal rights: Because this document has been prepared without consideration of any specific client's financial situation, particular needs and investment objectives, a Bell Potter Securities Limited investment adviser (or the financial services licensee, or the proper authority of such licensee, who has provided you with this report by arrangement with Bell Potter Securities Limited) should be consulted before any investment decision is made. While this document is based on the information from sources which are considered reliable, Bell Potter Securities Limited, its directors, employees and consultants do not represent, warrant or guarantee, expressly or impliedly, that the information contained in this document is complete or accurate. Nor does Bell Potter Securities Limited accept any responsibility to inform you of any matter that subsequently comes to its notice, which may affect any of the information contained in this document. This document is a private communication to clients and is not intended for public circulation or for the use of any third party, without the prior approval of Bell Potter Securities Limited. In the USA and the UK this research is only for institutional investors. It is not for release, publication or distribution in whole or in part to any persons in the two specified countries. This is general investment advice only and does not constitute advice to any person.
Disclosure of Interest: Bell Potter Securities Limited receives commission from dealing in securities and its authorised representatives, or introducers of business, may directly share in this commission. Bell Potter Securities and its associates may hold shares in the companies recommended.