Strategic acquisition in Victoria
Eagers announced it has entered into a non-binding agreement to acquire a portfolio of dealerships and key strategic properties located across Melbourne and the Mornington region of Victoria from a group of companies associated with Nick Politis. The total purchase price for the dealerships and three properties is $245m comprising of $111m in goodwill, $100m for the properties and $34m of net assets. The dealerships generate annual turnover of c.$1.0bn so, after stripping out the value of the properties, the purchase price equates to approximately 0.13x sales. The return on sales for the combined dealerships was not disclosed but if we assume an industry standard margin of around 3.0% – which is below the Eagers margin of around 4.5% – then the purchase price equates to around 4.5x (which is slightly below the 5x Eagers paid for the ACT dealerships from VFM Motors last year). The acquisition is subject to customary conditions as well as shareholder approval with a General Meeting expected to be held in early 2024.
EPS accretion of 3 and 6% if acquisition proceeds
We make no change to our forecasts at this stage given the acquisition is subject to various conditions and shareholder approval. If it does proceed, however, there would be no impact on our 2023 forecasts – given the acquisition will not occur till 2024 – and EPS upgrades of approximately 3% and 6% in 2024 and 2025. Note these upgrades assume the acquisition occurs at the end of February – so 10 months contribution in 2024 – and a flat margin of 3.0% in 2024 but an improvement to 3.5% in 2025.
Investment view: PT up 2% to $15.50, Maintain HOLD
If the acquisition proceeds then the forecast EPS accretion of 3% and 6% in 2024 and 2025 suggests there is this sort of upside to our price target all else being equal. We therefore choose to raise our PT by 2% to $15.50 given the likelihood of the acquisition proceeding with some likely further upside of another 2-3% if and when the transaction occurs. At this updated PT the total expected return is still <15% so we maintain our HOLD recommendation.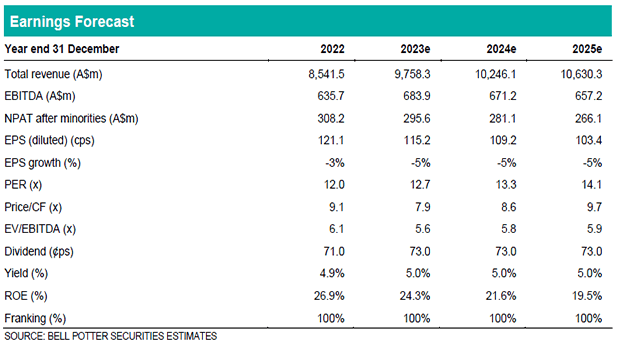 Authored by Chris Savage – Analyst – at Bell Potter Securities, 11 October 2023
Important Disclaimer—This may affect your legal rights: Because this document has been prepared without consideration of any specific client's financial situation, particular needs and investment objectives, a Bell Potter Securities Limited investment adviser (or the financial services licensee, or the proper authority of such licensee, who has provided you with this report by arrangement with Bell Potter Securities Limited) should be consulted before any investment decision is made. While this document is based on the information from sources which are considered reliable, Bell Potter Securities Limited, its directors, employees and consultants do not represent, warrant or guarantee, expressly or impliedly, that the information contained in this document is complete or accurate. Nor does Bell Potter Securities Limited accept any responsibility to inform you of any matter that subsequently comes to its notice, which may affect any of the information contained in this document. This document is a private communication to clients and is not intended for public circulation or for the use of any third party, without the prior approval of Bell Potter Securities Limited. In the USA and the UK this research is only for institutional investors. It is not for release, publication or distribution in whole or in part to any persons in the two specified countries. This is general investment advice only and does not constitute advice to any person.
Disclosure of Interest: Bell Potter Securities Limited receives commission from dealing in securities and its authorised representatives, or introducers of business, may directly share in this commission. Bell Potter Securities and its associates may hold shares in the companies recommended.