Production growth takes a breather
SXY finished FY21 with total production of 17.3PJ (BP est. 17.6PJ), within company guidance of 17-18PJ. Production plateaued in the final quarter to average 52TJ/day and sales were 2% lower on gas processing facility maintenance. Full year revenue was $116m, broadly in line with our estimate of $118m. Over the quarter, SXY's net cash position fell to $26m (from $36m); at quarter end, the company had cash of $101m and $50m in undrawn debt.
EPS changes in this report are: FY21 now 6.1cps (previously 8.8cps); FY22 -2%; and FY23 no change.
Next phase of expansion on track
Roma North's expansion to 9PJ/year (25TJ/day) is expected to be online in the current quarter. Together with Atlas currently at around 12PJ/year (33TJ/day), the Roma North expansion will increase group nameplate capacity to around 21PJ/year (58TJ/day). Taking Atlas to 18PJ/year and therefore group capacity to 27PJ/year (74TJ/day) is through front end engineering design (FEED) with FID dependent on customers signing term contracts. Roma North's next expansion to 18PJ is also through FEED and could further increase group capacity to 36PJ/year (99TJ/day), FID is expected by the end of 2021. SXY reiterated its longer term target of lifting group production to more than 60PJe/year by the end of FY25.
Investment thesis: Buy, Target Price $3.75/sh
SXY provides leverage to Australia's east coast gas market where supply deficits are supporting high prices. Near term earnings growth is from ongoing production growth, improved domestic prices, and improved GLNG offtake prices as lagged oil-linked gas prices flow through. The company has brownfield expansion projects and a track record in project development. SXY is funded to pursue its growth aspirations, with net cash and supportive bank debt. We also expect dividends to form an increasing component of shareholder returns.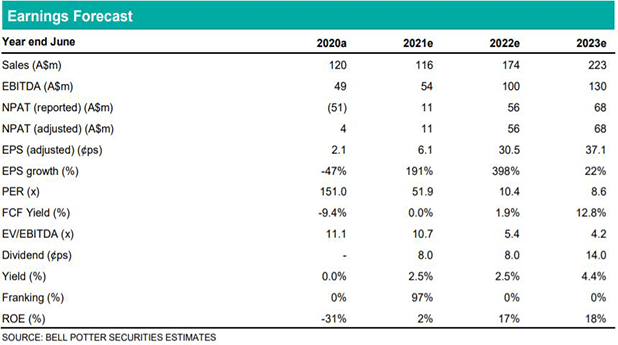 Authored by Stuart Howe – Analyst – at Bell Potter Securities, 20 July 2021
Important Disclaimer—This may affect your legal rights: Because this document has been prepared without consideration of any specific client's financial situation, particular needs and investment objectives, a Bell Potter Securities Limited investment adviser (or the financial services licensee, or the proper authority of such licensee, who has provided you with this report by arrangement with Bell Potter Securities Limited) should be consulted before any investment decision is made. While this document is based on the information from sources which are considered reliable, Bell Potter Securities Limited, its directors, employees and consultants do not represent, warrant or guarantee, expressly or impliedly, that the information contained in this document is complete or accurate. Nor does Bell Potter Securities Limited accept any responsibility to inform you of any matter that subsequently comes to its notice, which may affect any of the information contained in this document. This document is a private communication to clients and is not intended for public circulation or for the use of any third party, without the prior approval of Bell Potter Securities Limited. In the USA and the UK this research is only for institutional investors. It is not for release, publication or distribution in whole or in part to any persons in the two specified countries. This is general investment advice only and does not constitute advice to any person.
Disclosure of Interest: Bell Potter Securities Limited receives commission from dealing in securities and its authorised representatives, or introducers of business, may directly share in this commission. Bell Potter Securities and its associates may hold shares in the companies recommended.