ANZ should expect these to be the same on 18 August 2021: 1) statutory NPAT ~$1.3bn; 2) cash profit (continuing) ~$1.3bn; and 3) cash profit (continuing and exlarge notable items) ~$1.3bn. This is based on almost unchanged banking income (lower net interest income and higher other banking income), further improvement in operating expenses (costs excluding large and notable items again well-managed with the bulk in productivity/modernisation savings), slight credit impairment charge (as opposed to a benefit in 1H21 due to normalisation) and effective tax rate of 30%.
ANZ announced a capital management update this week signalling its intention to buy back $1.5bn shares on market. There was also the promise of further capital to be returned given its position, but only if all balanced and prudent outcomes are satisfied. As it is, ANZ will return a modest amount targeting around 35bp (Level 2 and Level 1 CET1 ratios as at 31 March 2021 are 12.4% and 12.2% respectively) that would still place the bank comfortably ahead of the capital requirement of 10.5%. This theoretically means the bank can also pay at least another $2.5bn by 2022. This would also bring the CET1 ratio to around 11.4-11.5%, suggesting the bank can still enjoy a buffer of around 1.0% over APRA's minimum capital requirement
Price target increased to $30.00, Buy rating unchanged
We look at ANZ's outcomes in two sections. The first lies is changes to projections leading up to but not including the $1.5bn capital return, while the second includes the capital return of $1.5bn in FY21 and $2.5bn in FY22. Assuming no difference in earnings capacity, the only real changes lie in: 1) cash EPS (continuing) (FY21 0cps; FY22 5cps; FY23 12cps; and FY24 12cps); and 2) cash ROE (continuing) (FY21 0.0%; FY22 +0.3%; FY23 +0.5%; and FY24 +0.5%). The price target is increased by 22% to $30.00 (previously $24.50), mainly from the effects of the first section, while ANZ's Buy rating is maintained.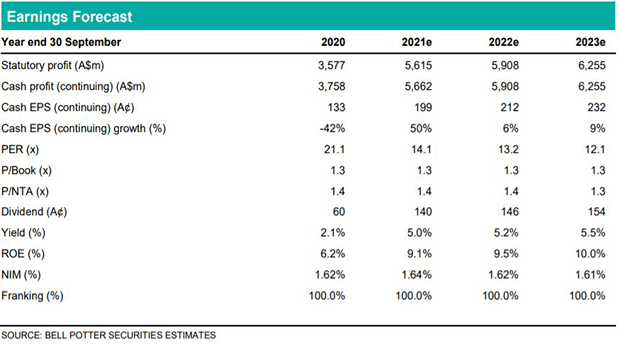 Authored by TS Lim – Analyst – at Bell Potter Securities, 23 July 2021
Important Disclaimer—This may affect your legal rights: Because this document has been prepared without consideration of any specific client's financial situation, particular needs and investment objectives, a Bell Potter Securities Limited investment adviser (or the financial services licensee, or the proper authority of such licensee, who has provided you with this report by arrangement with Bell Potter Securities Limited) should be consulted before any investment decision is made. While this document is based on the information from sources which are considered reliable, Bell Potter Securities Limited, its directors, employees and consultants do not represent, warrant or guarantee, expressly or impliedly, that the information contained in this document is complete or accurate. Nor does Bell Potter Securities Limited accept any responsibility to inform you of any matter that subsequently comes to its notice, which may affect any of the information contained in this document. This document is a private communication to clients and is not intended for public circulation or for the use of any third party, without the prior approval of Bell Potter Securities Limited. In the USA and the UK this research is only for institutional investors. It is not for release, publication or distribution in whole or in part to any persons in the two specified countries. This is general investment advice only and does not constitute advice to any person.
Disclosure of Interest: Bell Potter Securities Limited receives commission from dealing in securities and its authorised representatives, or introducers of business, may directly share in this commission. Bell Potter Securities and its associates may hold shares in the companies recommended.