Strong 1H21 result as flagged, 2H21 also off to a strong start
PMV announced a strong 1H21 result ahead vs its 13 January update, with EBIT (pre-AASB16) lifting 88.5% vs pcp to $237.8m (vs guidance $221m-$233m). The uplift was mostly driven by margin gains (gross margin +286bps, CODB/sales -870bps) reflecting online acceleration (higher margin channel), Peter Alexander outperformance (higher
margin brand), reduced promotions and opex leverage on tight cost controls. Sales performance was also robust, increasing 7.2% despite store closures, with global likefor-like sales (ex. store closures) up 18.2% (within this online sales lifted 61% vs pcp). Partially offsetting these positives, Smiggle sales fell 26.5% due to COVID disruptions.
With headline numbers pre-released, we highlight the following key new information:
Strong momentum has continued into 2H21: Global LFL sales (i.e. ex. store closures) up 32.1% & gross margin up 379bps for first 7 weeks of 2H21. Growth continues to be underpinned by Peter Alexander, online and the Apparel brands.
Rent rebased down 318bps: PMV has reached agreement with key landlords that has rebased rent at 12.7% of 1H21 sales, down 318bps vs pcp. This result is ahead vs BPe and will further enhance PMV's opex leverage moving forward.
Offshore opportunity for Peter Alexander: Given consistent outperformance, PMV was upbeat on the offshore growth potential for Peter Alexander (designer- led brand in demand), although we see this more of a late-FY22 / FY23 decision.
Strong balance sheet: At end-1H21 PMV had net cash of $350.5m which includes $497.2m in free cash held by PMV outside the Just Group. In addition, PMV's investment stake in BRG has a current market value in the region of ~$1b.
Earnings changes / Investment View: Retain Hold, PT $25.00
We have strengthened sales and reduced our rent expense assumptions. Net effect is our FY21/FY22/FY23 EPS increase by 4.8%/10.8%/8.8%. Our PT increases to $25.00 (previously $23.90). We recently downgraded our rating to Hold following the 13 Jan update. While today's update reveals several positive developments (as noted above), we are reluctant to upgrade given the continued reduced visibility on Smiggle's growth profile, an anticipated normalisation in earnings, & based on valuation. Hold retained.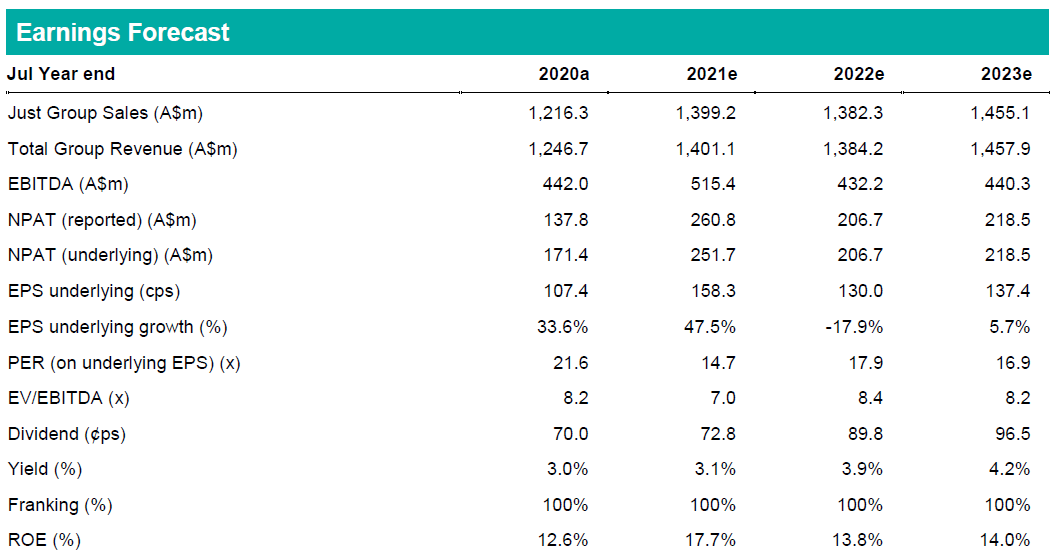 Authored by Sam Haddad – Research Analyst – Emerging Growth at Bell Potter Securities, 24 March 2021
Important Disclaimer—This may affect your legal rights: Because this document has been prepared without consideration of any specific client's financial situation, particular needs and investment objectives, a Bell Potter Securities Limited investment adviser (or the financial services licensee, or the proper authority of such licensee, who has provided you with this report by arrangement with Bell Potter Securities Limited) should be consulted before any investment decision is made. While this document is based on the information from sources which are considered reliable, Bell Potter Securities Limited, its directors, employees and consultants do not represent, warrant or guarantee, expressly or impliedly, that the information contained in this document is complete or accurate. Nor does Bell Potter Securities Limited accept any responsibility to inform you of any matter that subsequently comes to its notice, which may affect any of the information contained in this document. This document is a private communication to clients and is not intended for public circulation or for the use of any third party, without the prior approval of Bell Potter Securities Limited. In the USA and the UK this research is only for institutional investors. It is not for release, publication or distribution in whole or in part to any persons in the two specified countries. This is general investment advice only and does not constitute advice to any person.
Disclosure of Interest: Bell Potter Securities Limited receives commission from dealing in securities and its authorised representatives, or introducers of business, may directly share in this commission. Bell Potter Securities and its associates may hold shares in the companies recommended.