Volumes in the Vanguard Global Value Equity Active ETF (VVLU) are on the rise coinciding with the re-opening of global economies, positive GDP growth and prospects of a reflation trade. During the month of February, VVLU experienced significantly larger net fund flows of $9.3m, pushing the number of units outstanding up by 15.6% to 1.4m, with FUM at $68.8m. A similar reactive spike in in trading behaviour was also witnessed back in November 2020, after joint news of Oxford-AstraZeneca and Pfizer-BioNTech COVID-19 vaccines were found to be grossly efficacious. February results out of Israel found unequivocally a 94% drop in symptomatic COVID-19 infections among the 600,000 people who received two doses of the Pfizer's vaccine. Vanguard's quantitative model implements an active approach that aims to assess the factor exposures of global securities, favouring equities with relatively lower fundamentals than peers. The fund recorded a P/E of 13.8x, compared to 24.4x for the benchmark Russell 3000 Index.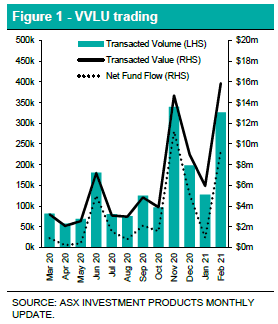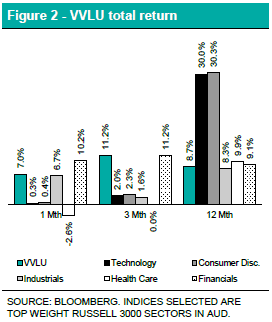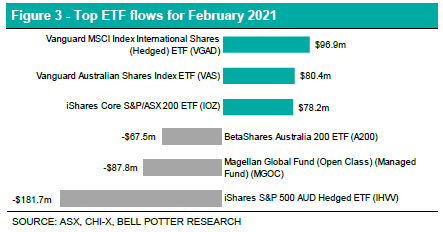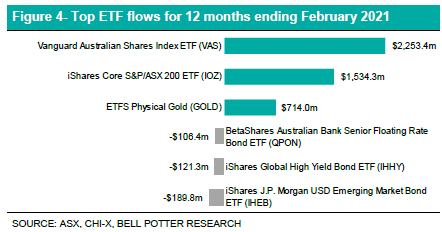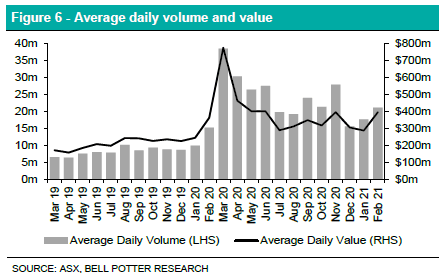 Authored by Hayden Nicholson, ETF / LIC Specialist at Bell Potter Securities, 26 March 2021
Important Disclaimer—This may affect your legal rights: Because this document has been prepared without consideration of any specific client's financial situation, particular needs and investment objectives, a Bell Potter Securities Limited investment adviser (or the financial services licensee, or the proper authority of such licensee, who has provided you with this report by arrangement with Bell Potter Securities Limited) should be consulted before any investment decision is made. While this document is based on the information from sources which are considered reliable, Bell Potter Securities Limited, its directors, employees and consultants do not represent, warrant or guarantee, expressly or impliedly, that the information contained in this document is complete or accurate. Nor does Bell Potter Securities Limited accept any responsibility to inform you of any matter that subsequently comes to its notice, which may affect any of the information contained in this document. This document is a private communication to clients and is not intended for public circulation or for the use of any third party, without the prior approval of Bell Potter Securities Limited. In the USA and the UK this research is only for institutional investors. It is not for release, publication or distribution in whole or in part to any persons in the two specified countries. This is general investment advice only and does not constitute advice to any person.
Disclosure of Interest: Bell Potter Securities Limited receives commission from dealing in securities and its authorised representatives, or introducers of business, may directly share in this commission. Bell Potter Securities and its associates may hold shares in the companies recommended.