Exploration investment delivering results
Dollars going into the ground
The latest figures from the Australian Bureau of Statistics (ABS) have confirmed a big ramp-up in exploration expenditure which is translating into a record amount of drilling. This reflects the market being open for exploration companies and record amounts of funding achieved through 2020 and into 2021. Encouragingly, an increased proportion of this appears to be going to the ground via drilling and leading to the discovery of a new generation of assets in Australia – which is great news for the future of the industry. See the story and data on page 2 of the report.
LTR (3/03/2021 & 13/01/2021): High grade gold hits from first RC drilling at Moora. One highlight intersection includes: 44m at 1.6g/t gold from 200 544m, including; 20m at 3.2g/t gold from 208-228m and 4m at 10.1g/t from 220-224m. This result validates LTR's Moora exploration program with results delivered within three months from commencement of its first drilling campaign and followed on from a successful AC drilling program which generated multiple targets. These results validate LTR's Moora exploration strategy.
XAM (16/02/2021): High grade gold-rich bornite mineralisation extended at Kharmagtai. A drill result from the latest update features an intersection of 226.2m at 0.62% Cu and 1.43g/t Au (1.51% copper equivalent (CuEq)) from 611.8m. The latest results showcase Kharmagtai's potential as a Tier-1 porphyry copper-gold deposit.
CHN (28/01/2021 & 5/01/2021): CHN has identified four new high grade zones and extensions at the Gonneville Prospect and secured access for reconnaissance exploration of strong targets in State Forest areas of the Julimar Project. The approval paves the way for CHN to conduct the first ever Ni-Cu-PGE exploration activities within the Julimar State Forest. This will enable CHN to begin non-ground disturbing exploration of significant AEM anomalies.
AIS (21/01/2021): Further high grade copper assays from Constellation. The latest results features high grade copper sulphides as follows: 27.1m @ 1.61% Cu, 0.43g/t Au from 233.9m; including 6.3m @ 2.30% Cu, 0.47g/t Au from
233.9m; and 10.8m @ 2.37% Cu, 0.66g/t Au, 4.9g/t Ag. The results successfully intersected the targeted EM plate and hit mineralisation consistent with the grade and style of with that returned from TAKD001.
LEG (13/01/2021): Assays confirm best Mawson intersection yet and that it is very much part of a major mineralised system. The latest drill results featured a continuous 31.1m zone of massive sulphides in RKDD034 assayed an average
of 2.80% Ni, 2.04% Cu and 0.15% cobalt (Co) Co from 200.7m.
S2R (5/01/2021): Further high grade gold intersections from broad-spaced drilling at Aarnivalkea in Finland. The latest published assay results feature a new intersection of 20.4m averaging 2.3g/t Au from 193.1m including 8.0m at 4.8g/tAu from 198.0m. These results show potential for a major gold system that extends over 1,200m of strike and up to 250m wide.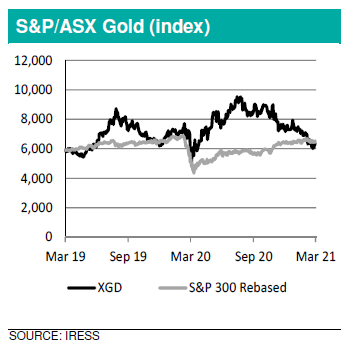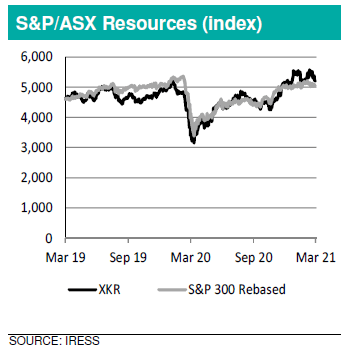 Important Disclaimer—This may affect your legal rights: Because this document has been prepared without consideration of any specific client's financial situation, particular needs and investment objectives, a Bell Potter Securities Limited investment adviser (or the financial services licensee, or the proper authority of such licensee, who has provided you with this report by arrangement with Bell Potter Securities Limited) should be consulted before any investment decision is made. While this document is based on the information from sources which are considered reliable, Bell Potter Securities Limited, its directors, employees and consultants do not represent, warrant or guarantee, expressly or impliedly, that the information contained in this document is complete or accurate. Nor does Bell Potter Securities Limited accept any responsibility to inform you of any matter that subsequently comes to its notice, which may affect any of the information contained in this document. This document is a private communication to clients and is not intended for public circulation or for the use of any third party, without the prior approval of Bell Potter Securities Limited. In the USA and the UK this research is only for institutional investors. It is not for release, publication or distribution in whole or in part to any persons in the two specified countries. This is general investment advice only and does not constitute advice to any person.
Disclosure of Interest: Bell Potter Securities Limited receives commission from dealing in securities and its authorised representatives, or introducers of business, may directly share in this commission. Bell Potter Securities and its associates may hold shares in the companies recommended.