Listed Investment Companies Weekly Report
A sustained economic recovery is starting to occur, with Australian GDP rising 3.1% in seasonally adjusted chain volume measures over the quarter, generally supported by COVID-19 restrictions easing in Victoria, which resulted in state specific household consumption rising by 10.4%. The consecutive positive result for the economy is also reflected in through the year results, which improved from -3.7% to -1.1%. The terms of trade (ratio of export prices to import prices) rose 4.7% off the back of higher export prices, and in particular iron ore. The Reserve Bank of Australia (RBA) also held the official cash rate at 10bps, opting for unconventional monetary policy though a $200bn bond purchase program
designed to further stimulate economic activity. The announcement of $4bn daily state government bond purchases on March 1st helped retract the increasing yield on 10-year Australian government bonds, which decreased to 1.67% following the news. Yields had reached 1.92% on February 26th when bonds were sold off.
Tribeca Global Natural Resources Limited (TGF) remains well placed with commodities looking relatively attractive. The investment portfolio is well-rounded with exposure to precious metals, battery metals and diversified mining. The Manager's core belief is that through the cycle, the actively managed, long-short approach to the sector will generate superior risk adjusted returns versus indices, ETFs, commodities and equities. Net exposure was ~120% as at 31 January 2021.
WAM Leaders Limited (WLE) held an active weight of 6.9% and 0.8% for Financials and Materials respectively, as at 31 January 2021. Financials may be beneficiaries of a steeping yield curve through the inherent borrow short, lend long
model, on which a net interest margin is achieved. Cash flows are also consistent through time, as opposed to Technology and Health Care, where profits are generally further out in the future and become less valuable in present day terms.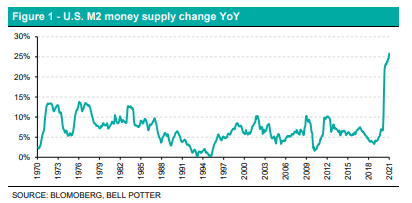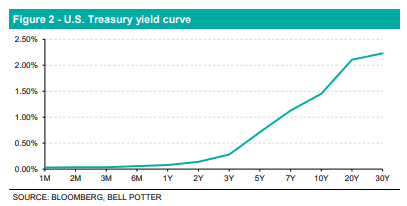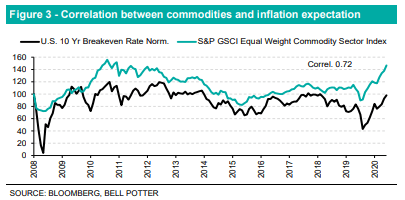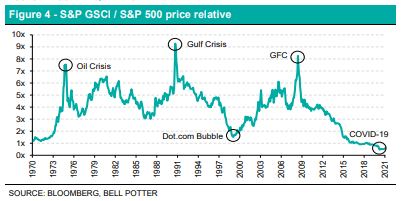 Authored by Hayden Nicholson, EFT / LIC Specialist at Bell Potter Securities, 8 March 2021
Important Disclaimer—This may affect your legal rights: Because this document has been prepared without consideration of any specific client's financial situation, particular needs and investment objectives, a Bell Potter Securities Limited investment adviser (or the financial services licensee, or the proper authority of such licensee, who has provided you with this report by arrangement with Bell Potter Securities Limited) should be consulted before any investment decision is made. While this document is based on the information from sources which are considered reliable, Bell Potter Securities Limited, its directors, employees and consultants do not represent, warrant or guarantee, expressly or impliedly, that the information contained in this document is complete or accurate. Nor does Bell Potter Securities Limited accept any responsibility to inform you of any matter that subsequently comes to its notice, which may affect any of the information contained in this document. This document is a private communication to clients and is not intended for public circulation or for the use of any third party, without the prior approval of Bell Potter Securities Limited. In the USA and the UK this research is only for institutional investors. It is not for release, publication or distribution in whole or in part to any persons in the two specified countries. This is general investment advice only and does not constitute advice to any person.
Disclosure of Interest: Bell Potter Securities Limited receives commission from dealing in securities and its authorised representatives, or introducers of business, may directly share in this commission. Bell Potter Securities and its associates may hold shares in the companies recommended.