Monthly flows, and mark to market changes to forecasts
The company saw funds under management (FUM) lower at $21,118m, driven by outflows of $205m or 0.9% and a reduction due to market levels of $1,140 or 5.1%.
While the outflows were only slightly below our forecasts of 0.7% per month, the market move is material and therefore we have taken the opportunity to mark our forecasts to market. This reduces our expected FUM by 6.2% in 2022. Our revenue forecast reduces by 2.1% for 2022, 6.2% for 2023 and 6.4% for 2024. EBITDA reduces by 3.1% in 2022, 9.8% for 2023 and 11.1% for 2024.
Investment view: Hold, Valuation $1.90 per share
Our target price is reduced to $1.90 per share (previously $2.08), set using a DCF valuation. This is 8.6% below our previous forecast due entirely to the 9.8% lower EBITDA forecast.
Our recommendation moves to HOLD, in accordance with our ratings structure. The next news event is the Annual Investor and Advisor presentation due later this month.
Should there be a resolution or peace agreement in Ukraine, we would hope to see markets stabilise and recover back towards previous levels, which could trigger a corresponding rebound to our forecasts and valuation. With markets remaining fluid, we would look for more certainty before revisiting the shares. With this update our earnings forecasts reduce by 3.1% for FY22, 9.9% for FY23 and 11.1 for FY24.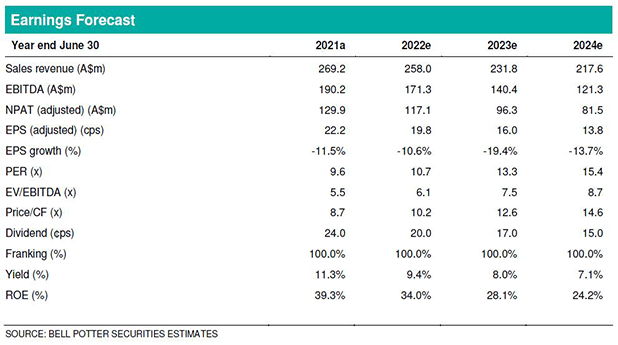 Authored by Marcus Barnard – Analyst – at Bell Potter Securities, 8 March 2022
Important Disclaimer—This may affect your legal rights: Because this document has been prepared without consideration of any specific client's financial situation, particular needs and investment objectives, a Bell Potter Securities Limited investment adviser (or the financial services licensee, or the proper authority of such licensee, who has provided you with this report by arrangement with Bell Potter Securities Limited) should be consulted before any investment decision is made. While this document is based on the information from sources which are considered reliable, Bell Potter Securities Limited, its directors, employees and consultants do not represent, warrant or guarantee, expressly or impliedly, that the information contained in this document is complete or accurate. Nor does Bell Potter Securities Limited accept any responsibility to inform you of any matter that subsequently comes to its notice, which may affect any of the information contained in this document. This document is a private communication to clients and is not intended for public circulation or for the use of any third party, without the prior approval of Bell Potter Securities Limited. In the USA and the UK this research is only for institutional investors. It is not for release, publication or distribution in whole or in part to any persons in the two specified countries. This is general investment advice only and does not constitute advice to any person.
Disclosure of Interest: Bell Potter Securities Limited receives commission from dealing in securities and its authorised representatives, or introducers of business, may directly share in this commission. Bell Potter Securities and its associates may hold shares in the companies recommended.