Strong underlying result on Galaxy contribution
AKE reported underlying 1H FY22 EBITDA of US$98m (BP est. US$83m) and NPAT of US$57m (BP est. US$44m). Reported 1H FY22 NPAT was US$13m after nonoperating adjustments mostly relating to the Galaxy acquisition, inventory mark-tomarkets and revalued tax losses. The consolidated result included performance from the Galaxy assets from the merger date (25 August 2021), with EBITDA contributions of US$35m from Olaroz and US$71m from Mt Cattlin. As expected, no dividend was declared. At 31 December 2022, AKE had cash of US$450m, borrowings of US$330m and leases of US$47m giving a net cash position of US$73m.
Lithium pricing continues to improve
AKE now expect 2H FY22 lithium carbonate pricing to average US$25,000/t (previously US$20,000/t) and maintained an expected March 2022 quarterly spodumene price of US$2,500/t. As previously reported, AKE's Olaroz sales are now priced on a shorter term basis while Mt Cattlin spodumene sales are set quarterly on a per cargo basis with reference to spot spodumene prices. AKE therefore will see record high lithium prices flow through to earnings until at least until at least 2H 2022.
EPS changes in this report mostly reflect higher expected lithium commodity price realisation: FY22 +11%; FY23 +13%; and FY24 +6%.
Investment thesis: Buy, TP$18.05/sh (previously $17.51/sh)
AKE is a go-to stock for multi-project exposure to lithium markets. AKE will realise significantly higher prices from 2022, driving material operating cash flow growth. Looking ahead, AKE has a portfolio of growth projects to materially lift production over the next three years. Naraha will commence conversion of primary grade lithium carbonate into 10ktpa battery grade lithium hydroxide by mid-2022. At Olaroz, an additional 25ktpa LCE capacity will be commissioned from 2H 2022, lifting capacity at this asset to over 40ktpa. Construction of Sal de Vida Stage 1 at around 11ktpa LCE has commenced for first production from 2023. In aggregate, we expect AKE's equity share of production to lift from 33kt LCE in FY21 to over 50ktpa LCE by FY24.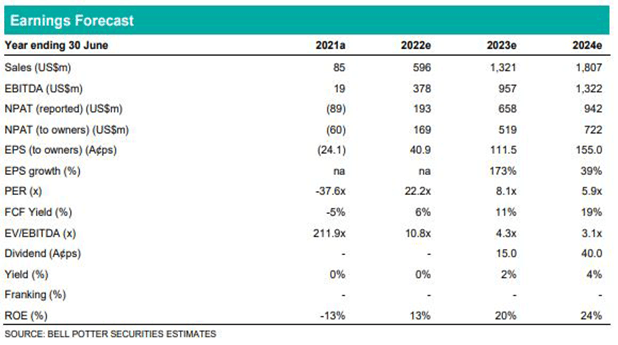 Authored by Stuart Howe & Joseph House – Analysts – at Bell Potter Securities, 28 February 2022
Important Disclaimer—This may affect your legal rights: Because this document has been prepared without consideration of any specific client's financial situation, particular needs and investment objectives, a Bell Potter Securities Limited investment adviser (or the financial services licensee, or the proper authority of such licensee, who has provided you with this report by arrangement with Bell Potter Securities Limited) should be consulted before any investment decision is made. While this document is based on the information from sources which are considered reliable, Bell Potter Securities Limited, its directors, employees and consultants do not represent, warrant or guarantee, expressly or impliedly, that the information contained in this document is complete or accurate. Nor does Bell Potter Securities Limited accept any responsibility to inform you of any matter that subsequently comes to its notice, which may affect any of the information contained in this document. This document is a private communication to clients and is not intended for public circulation or for the use of any third party, without the prior approval of Bell Potter Securities Limited. In the USA and the UK this research is only for institutional investors. It is not for release, publication or distribution in whole or in part to any persons in the two specified countries. This is general investment advice only and does not constitute advice to any person.
Disclosure of Interest: Bell Potter Securities Limited receives commission from dealing in securities and its authorised representatives, or introducers of business, may directly share in this commission. Bell Potter Securities and its associates may hold shares in the companies recommended.