SHV's recent AGM comments highlighted continued subdued almond market conditions and more elevated costs than we had previously allowed for. Key points:
Crop forecast: SHV has experienced reasonable growing conditions through the year and anticipates a crop of ~29,500t (vs. BPe of 29,200t). Harvest commenced in early Feb'22 and sizing and quality are in line with expectations.
Costs: SHV has maintained comments that lower water prices should flow through to a saving of $6-8m in FY22e. However, total growing costs on a per Kg basis are anticipated to be unchanged YOY, with inflation in crop inputs and higher expensing of lease costs. This is slightly higher than we had previously allowed.
Price: Almond prices have retreated to the lows seen a year ago, with spot market pricing based on SHV's quality mix looking to be in the region of ~A$6.00-6.20/Kg. To date SHV has committed ~20% of the crop, with price premiums being achieved for newer larger sized crop. SHV has forward cover on the AUDUSD at 73¢ over 85% of the forecast FY22e crop.
Snowpack: Following a drier than average Jan-Feb, the Californian snowpack has receded to ~63% of normal for this time of year. If maintained this would likely prove a headwind to May'22 Californian production forecasts.
We have raised our cost estimates, while leaving our price estimate unchanged. Implicitly our forecasts assume a recovery in almond pricing as the Californian crop develops and logistics issues are resolved. Our NPAT forecasts fall -10% in FY22e, -10% in FY23e and -7% in FY24e. Our target price is reduced to $6.85ps (prev. $7.10ps) following these changes
Investment view: buy rating unchanged
There is no change to our Buy rating. SHV is trading at a level broadly consistent with its market adjusted NAV (water + land at market value) of ~$5.48ps (historical support level), with spot almond prices well below the long-term average of ~A$7.70/Kg.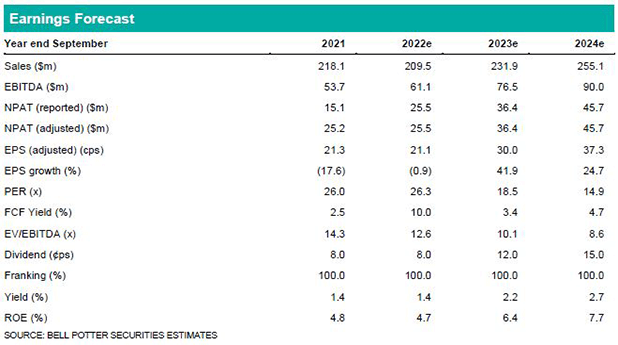 Authored by Jonathan Snape – Analyst – at Bell Potter Securities, 2 March 2022
Important Disclaimer—This may affect your legal rights: Because this document has been prepared without consideration of any specific client's financial situation, particular needs and investment objectives, a Bell Potter Securities Limited investment adviser (or the financial services licensee, or the proper authority of such licensee, who has provided you with this report by arrangement with Bell Potter Securities Limited) should be consulted before any investment decision is made. While this document is based on the information from sources which are considered reliable, Bell Potter Securities Limited, its directors, employees and consultants do not represent, warrant or guarantee, expressly or impliedly, that the information contained in this document is complete or accurate. Nor does Bell Potter Securities Limited accept any responsibility to inform you of any matter that subsequently comes to its notice, which may affect any of the information contained in this document. This document is a private communication to clients and is not intended for public circulation or for the use of any third party, without the prior approval of Bell Potter Securities Limited. In the USA and the UK this research is only for institutional investors. It is not for release, publication or distribution in whole or in part to any persons in the two specified countries. This is general investment advice only and does not constitute advice to any person.
Disclosure of Interest: Bell Potter Securities Limited receives commission from dealing in securities and its authorised representatives, or introducers of business, may directly share in this commission. Bell Potter Securities and its associates may hold shares in the companies recommended.