Memorandum of Understanding locks in growth
NIC announced it has signed an MoU outlining: 1) the acquisition of a 70% interest in 4 next-generation Rotary Kiln Electric Furnace (RKEF) lines currently under construction within the Indonesia Morowali Industrial Park (IMIP), for consideration of US$525m (100% valuation US$750m). The new lines comprise the Oracle Nickel Project (ONI) and are expected to commence commissioning in Q1CY23; 2) Establishment of a "Future Energy" collaboration framework to optimise the transition to renewable energy sources; and 3) the planned participation in future High Pressure Acid Leach (HPAL) nickel projects, utilising NIC's current and prospective mineral resources across Indonesia, to produce battery grade nickel.
Sector leading earnings growth outlook
This is a multi-faceted agreement that deepens and expands NIC's partnership with Shanghai Decent Investment (SDI). The primary update is the ONI acquisition. The project replicates the specifications of the next generation RKEF lines of the Angel Nickel Project, with annual nameplate production of 36ktpa Ni in NPI, currently in the advanced stages of construction and in which NIC has an 80% interest. Incorporating the ONI acquisition into our forecasts builds further, aggressive production and earnings growth into NIC's outlook. We now forecast a tripling of US$ earnings from CY21 to CY23 on production growth of 2.4x. There is potential upside to our for
Investment thesis – Buy, TP$1.68/sh (from $1.42/sh)
This MoU follows on news of the ahead-of-schedule progress at the Angel Nickel Project which lifted our forecast CY22 EPS growth from 29% to 60% (Acps basis). The Oracle acquisition now lifts our forecast CY23 EPS growth from 68% to 95%, resulting in an extraordinary growth profile for an industrial style company. NIC is now trading on EV/EBITDA multiples of 6.0x and 3.2x and P/E multiples of 9.9x and 5.1x for CY22 and CY23 respectively. This reinforces NIC as one of our top picks in the sector and we retain our Buy recommendation.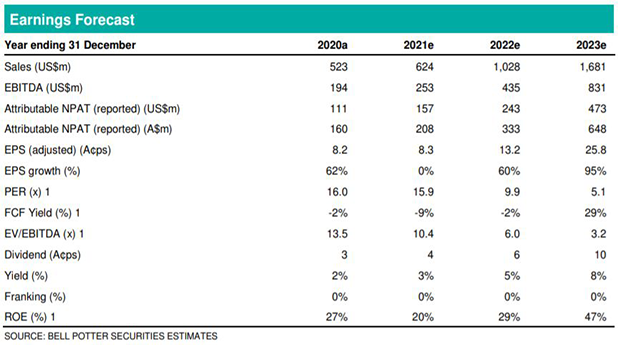 Authored by David Coates – Analyst – at Bell Potter Securities, 23 November 2021
Important Disclaimer—This may affect your legal rights: Because this document has been prepared without consideration of any specific client's financial situation, particular needs and investment objectives, a Bell Potter Securities Limited investment adviser (or the financial services licensee, or the proper authority of such licensee, who has provided you with this report by arrangement with Bell Potter Securities Limited) should be consulted before any investment decision is made. While this document is based on the information from sources which are considered reliable, Bell Potter Securities Limited, its directors, employees and consultants do not represent, warrant or guarantee, expressly or impliedly, that the information contained in this document is complete or accurate. Nor does Bell Potter Securities Limited accept any responsibility to inform you of any matter that subsequently comes to its notice, which may affect any of the information contained in this document. This document is a private communication to clients and is not intended for public circulation or for the use of any third party, without the prior approval of Bell Potter Securities Limited. In the USA and the UK this research is only for institutional investors. It is not for release, publication or distribution in whole or in part to any persons in the two specified countries. This is general investment advice only and does not constitute advice to any person.
Disclosure of Interest: Bell Potter Securities Limited receives commission from dealing in securities and its authorised representatives, or introducers of business, may directly share in this commission. Bell Potter Securities and its associates may hold shares in the companies recommended.