A record December crop forecast
The Dec'21 ABARES crop report highlighted an east coast winter crop forecast of 29.1mt above last year's previous high of 28.6mt. Key observations below:
East coast winter crop production: The winter crop forecast upon which the WRI grains contract is based is 29.1mt vs. 26.5mt at the Sep'21 report and 28.6mt in the Dec'21 report. Under the WRI agreement, GNC commences payments at 19.3mt until ~24mt is reached, meaning the upper bound would be met ($70m max outflow). The contestable crop (wheat, barley, canola and chickpea) which drives our GNC receipts estimate, is forecast at 27.4mt (vs. 24.2mt in Sep'21).
ABARES contestable summer crop: We focus on two grains, being cottonseed and sorghum. If achieved, the 2021-22 ABARES forecast of 3.5mt (3.1mt at Sep'21) would be the highest contestable summer crop since 2013. Note a total summer crop of 5.0mt (4.4mt at Sep'21) is forecast.
ABARES accuracy: Historically the December report has had ~97% average accuracy with a spread of 90-113%. 2010-11 was the most notable overestimate.
YTD Crop receivals: At its latest harvest update, GNC had received 4.55mt in storage, down -48% YOY and -14% below the 11 year average.
The crop report was stronger than the Sep'21 outcome and comparable to the Dec'20 record forecast. However, we have only incorporated additional summer crop volumes, resulting in NPAT upgrades of +3% in FY22-23e, with our $6.15ps target price unchanged. The Dec'21 crop forecast implies record production in FY22e, however, we are cognisant a wet harvest in 2010-11 saw a subsequent ~3mt downgrade.
Investment view: Downgrade to Sell
FY22e is likely to benefit from two of the largest east coast crops on a record at a time when northern hemisphere crop failures have elevated canola crush and marketing returns. FY22e earnings look to reflect a seasonal high, with an expected 35-40% contraction in EBITDA and 45-50% contracting in NPAT when conditions normalise. We downgrade our rating from Hold to Sell.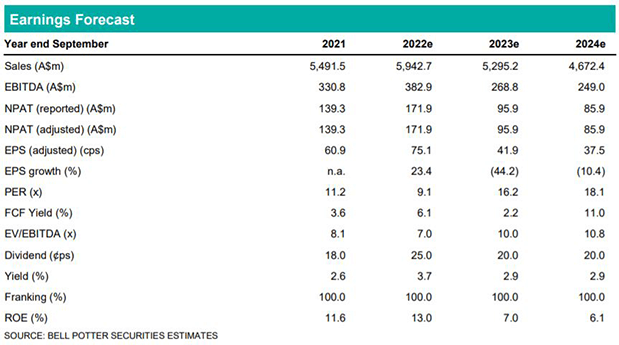 Authored by Jonathan Snape – Analyst – at Bell Potter Securities, 30 November 2021
Important Disclaimer—This may affect your legal rights: Because this document has been prepared without consideration of any specific client's financial situation, particular needs and investment objectives, a Bell Potter Securities Limited investment adviser (or the financial services licensee, or the proper authority of such licensee, who has provided you with this report by arrangement with Bell Potter Securities Limited) should be consulted before any investment decision is made. While this document is based on the information from sources which are considered reliable, Bell Potter Securities Limited, its directors, employees and consultants do not represent, warrant or guarantee, expressly or impliedly, that the information contained in this document is complete or accurate. Nor does Bell Potter Securities Limited accept any responsibility to inform you of any matter that subsequently comes to its notice, which may affect any of the information contained in this document. This document is a private communication to clients and is not intended for public circulation or for the use of any third party, without the prior approval of Bell Potter Securities Limited. In the USA and the UK this research is only for institutional investors. It is not for release, publication or distribution in whole or in part to any persons in the two specified countries. This is general investment advice only and does not constitute advice to any person.
Disclosure of Interest: Bell Potter Securities Limited receives commission from dealing in securities and its authorised representatives, or introducers of business, may directly share in this commission. Bell Potter Securities and its associates may hold shares in the companies recommended.