ACCC not opposed to NAB's buy of Citi consumer business
The ACCC will not oppose NAB's buy of the Citi consumer business as the transaction should not lessen competition. This is even after the fact NAB and Citi overlap in retail banking products and services including home loans, transactions/savings, wealth management, personal and credit cards.
Primarily, the transaction's main focus is on credit cards as the other products and services are minimal when it comes to market share. As for credit cards, the ACCC review process included the potential gains in market share, talking to various stakeholders (other suppliers, third party distributors, etc.) and other consumer groups. It found that there was again minimal noise from the account and NAB would still face competition from an enlarged customer base (and this is despite the increasing growth in BNPL schemes). In other words, Citi would still not be unique in its credit card offering and NAB's purchase will still not materially change its own position (i.e. NAB remains smaller than the other majors even after the acquisition).
The other thing is that NAB might offer less favourable terms post acquisition to the smaller players. ACCC found NAB would be unlikely to act in that manner given the importance of scale and including relative setup costs (more so for NAB in, for example, trying to invest in its own platform). The proposed acquisition now rests with regulatory approvals from the Commonwealth Treasury and APRA, and completion is still scheduled for first half of calendar year 2022.
Price target $32.00, maintain Buy rating
Our earnings expectations are unchanged for the time being, likewise the valuation and price target of $32.00. With a 12-month TSR of greater than 15%, we still maintain NAB's Buy rating.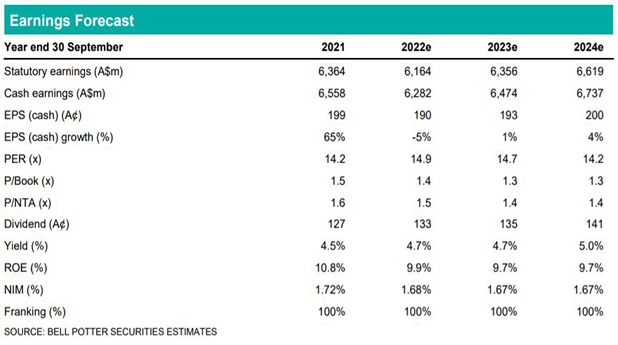 Authored by TS Lim – Analyst – at Bell Potter Securities, 25 November 2021
Important Disclaimer—This may affect your legal rights: Because this document has been prepared without consideration of any specific client's financial situation, particular needs and investment objectives, a Bell Potter Securities Limited investment adviser (or the financial services licensee, or the proper authority of such licensee, who has provided you with this report by arrangement with Bell Potter Securities Limited) should be consulted before any investment decision is made. While this document is based on the information from sources which are considered reliable, Bell Potter Securities Limited, its directors, employees and consultants do not represent, warrant or guarantee, expressly or impliedly, that the information contained in this document is complete or accurate. Nor does Bell Potter Securities Limited accept any responsibility to inform you of any matter that subsequently comes to its notice, which may affect any of the information contained in this document. This document is a private communication to clients and is not intended for public circulation or for the use of any third party, without the prior approval of Bell Potter Securities Limited. In the USA and the UK this research is only for institutional investors. It is not for release, publication or distribution in whole or in part to any persons in the two specified countries. This is general investment advice only and does not constitute advice to any person.
Disclosure of Interest: Bell Potter Securities Limited receives commission from dealing in securities and its authorised representatives, or introducers of business, may directly share in this commission. Bell Potter Securities and its associates may hold shares in the companies recommended.