Lithium product sales forecast to jump in FY23
MIN guided sales of ~225kt of lithium spodumene concentrates for FY22. In FY23, we forecast increased sales of spodumene concentrates (580kt, up 160%), and first significant sales of lithium hydroxide (~43kt). Production of lithium products is forecast to increase throughout FY23 and FY24. Growth is to come from plant expansions, reopening mines, lithium hydroxide conversion via toll-treating, and first sales of lithium hydroxide from JV owned conversion capacity in Western Australia. This growth in lithium product sales is delivered into a strong demand environment, and supportive product prices. So far in CY22, the spot 6% Li2O spodumene price is up 190%, and the spot battery grade lithium hydroxide prices is up 130%.
MIN's lithium business to step out of the shadows
We forecast strong EBITDA growth for MIN in FY23 (>200% to $2.3 billion, from FY22e: $750m). This strong EBITDA growth is primarily a function of the growth of lithium product sales, and relatively high forecast lithium product prices. In FY21 and  FY22, MIN's share price was particularly sensitive to the performance of the iron ore business, and iron ore prices. Through FY23 and FY24, we anticipate that MIN's share price will be increasingly supported by the lithium business, and the electrification thematic.
Investment thesis: Buy, TP$75.00/sh (from TP$70.00/sh)
MIN owns a growing portfolio of mining services and commodities businesses. Within commodities, we forecast the lithium business will start yielding significant returns from FY23. In Iron Ore, MIN is set to begin transitioning the business to a more competitive cost base with the Ashburton Project. Longer term, the embryonic Energy business has the potential to further broaden the earnings base, while providing lower carbon intensity energy security, and another service offering. EPS changes in this report include: FY22 -34%; FY23 +22%; and FY24 +95%, driven by extensive changes to our model, and updates to our commodities price forecasts.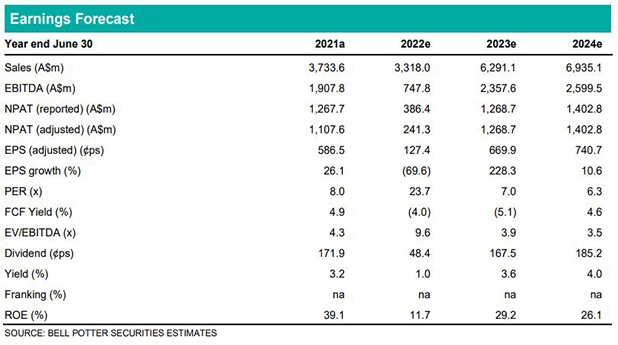 Authored by Bradley Watson – Analyst – at Bell Potter Securities, 25 July 2022
Important Disclaimer—This may affect your legal rights: Because this document has been prepared without consideration of any specific client's financial situation, particular needs and investment objectives, a Bell Potter Securities Limited investment adviser (or the financial services licensee, or the proper authority of such licensee, who has provided you with this report by arrangement with Bell Potter Securities Limited) should be consulted before any investment decision is made. While this document is based on the information from sources which are considered reliable, Bell Potter Securities Limited, its directors, employees and consultants do not represent, warrant or guarantee, expressly or impliedly, that the information contained in this document is complete or accurate. Nor does Bell Potter Securities Limited accept any responsibility to inform you of any matter that subsequently comes to its notice, which may affect any of the information contained in this document. This document is a private communication to clients and is not intended for public circulation or for the use of any third party, without the prior approval of Bell Potter Securities Limited. In the USA and the UK this research is only for institutional investors. It is not for release, publication or distribution in whole or in part to any persons in the two specified countries. This is general investment advice only and does not constitute advice to any person.
Disclosure of Interest: Bell Potter Securities Limited receives commission from dealing in securities and its authorised representatives, or introducers of business, may directly share in this commission. Bell Potter Securities and its associates may hold shares in the companies recommended.