Order book continues to fill, further opportunities remain
GNG has announced a ~$68m contract award for works at Newmont Corporation's Tanami gold mine. Works have been subcontracted to GNG by RUC Cementation Mining Contractors Pty Ltd, and are expected to be completed by April 2023.
Additionally, we note positive project updates from ASX-listed Galena Mining on its Abra Base Metals Project, and Geopacific Resources on its Woodlark Gold Project. GNG was previously awarded a $74m conditional EPC contract in February 2020 for the Abra Base Metals Project, whilst GNG has previously valued the Woodlark opportunity at $92m. With these projects continuing to progress, formal contract confirmation and construction ramp up would further strengthen GNG's order book.
Outlook remains strong, potential upside for UPS
GNG's workload continues to be supported by high commodity prices, which are increasing access to capital, and project activity amongst its key junior/mid-tier resources clients. In addition to the ~$68m Tanami contract, GNG has recently announced a $75.5m contract from Calidus Resources for its Warrawoona Gold project, and a $59.5m contract from Pantoro for its Norseman Gold project.
Additionally, we note that the Australian Government has opened expressions of interest for Phase 1 of the Northern Endeavour decommissioning works. Potential awards under this decommissioning process for GNG's UPS Oil & Gas subsidiary would represent upside to our forecasts.
Buy rating maintained, price target increased to $1.70
Our FY22e and FY23e EPS forecasts are raised by 2.8% and 4.6% respectively. We have also increased our FY22e and FY23e dividend estimates by 8.3% and 11.1% respectively. Our FY21 estimates are unchanged. We continue to remain attracted to GNG's exposure to Australian resources projects, with a solid net cash position and forecast fully-franked dividend of 8.8% in FY22e, further supporting our Buy rating.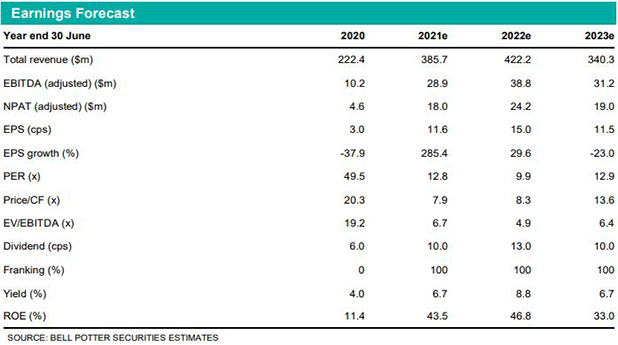 Authored by Steven Anastasiou – Analyst – at Bell Potter Securities, 2 July 2021
Important Disclaimer—This may affect your legal rights: Because this document has been prepared without consideration of any specific client's financial situation, particular needs and investment objectives, a Bell Potter Securities Limited investment adviser (or the financial services licensee, or the proper authority of such licensee, who has provided you with this report by arrangement with Bell Potter Securities Limited) should be consulted before any investment decision is made. While this document is based on the information from sources which are considered reliable, Bell Potter Securities Limited, its directors, employees and consultants do not represent, warrant or guarantee, expressly or impliedly, that the information contained in this document is complete or accurate. Nor does Bell Potter Securities Limited accept any responsibility to inform you of any matter that subsequently comes to its notice, which may affect any of the information contained in this document. This document is a private communication to clients and is not intended for public circulation or for the use of any third party, without the prior approval of Bell Potter Securities Limited. In the USA and the UK this research is only for institutional investors. It is not for release, publication or distribution in whole or in part to any persons in the two specified countries. This is general investment advice only and does not constitute advice to any person.
Disclosure of Interest: Bell Potter Securities Limited receives commission from dealing in securities and its authorised representatives, or introducers of business, may directly share in this commission. Bell Potter Securities and its associates may hold shares in the companies recommended.