Clean Seas Seafood Ltd (CSS) was formed by The Stehr Group in 2000 and publicly listed in 2005. The initial strategy of CSS was to propagate and grow Southern Bluefin Tuna, as well as other species including Yellowtail Kingfish. In 2012 CSS pivoted away from Tuna and began to focus on its Kingfish operations. Today CSS is a vertically integrated Kingfish producer operating hatcheries, farming and processing facilities, with lease capacity in place to support growth to ~10,000t.
Supply chain disruptions during the COVID-19 pandemic resulted in both volume headwinds (down -29% YOY in 2H20), weakness in realised selling prices (down from $17.00-17.50/Kg in 1H19-1H20 to $15.40-15.60/Kg in 2H20-1H21) as channels pivoted, and an elevated cost structure (inventory carry costs). As supply chains are re-established and biomass is cleared, we would expect these headwinds to reverse.
Investment view: Initiate coverage with Buy, Speculative risk
We initiate coverage with a Buy, Speculative risk rating and a valuation of $0.80ps. CSS provides investors with operating leverage to a re-opening in global foodservice channels resulting in the combination of stronger sales volumes, higher selling prices, and a downdraft in COGS. A resumption of historical growth rates, at pre-COVID cost and revenue points, then provides a pathway to profitability. Valuation looks undemanding compared to Oslo listed, The Kingfish Company, which is three times CSS's market value, despite CSS having a materially larger sales and biomass base.
Leading up to COVID-19, CSS had achieved compound growth in sales volumes of +20% pa since FY15, whilst sustaining high selling prices. CSS has biomass in place to support growth towards 4,000-5,000t, which would look a reasonable near term sales target, with a resumption of historical growth trends and following the establishment of new channels to market.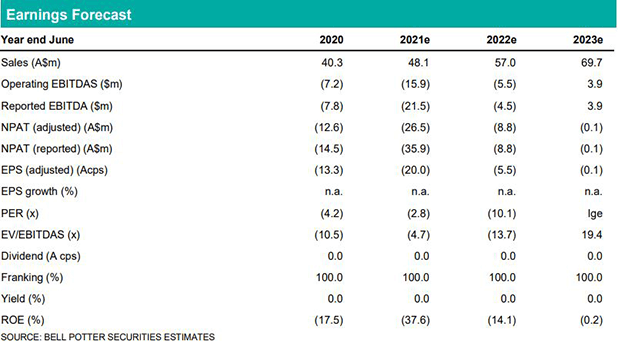 Authored by Jonathan Snape – Analyst – at Bell Potter Securities, 7 July 2021
Important Disclaimer—This may affect your legal rights: Because this document has been prepared without consideration of any specific client's financial situation, particular needs and investment objectives, a Bell Potter Securities Limited investment adviser (or the financial services licensee, or the proper authority of such licensee, who has provided you with this report by arrangement with Bell Potter Securities Limited) should be consulted before any investment decision is made. While this document is based on the information from sources which are considered reliable, Bell Potter Securities Limited, its directors, employees and consultants do not represent, warrant or guarantee, expressly or impliedly, that the information contained in this document is complete or accurate. Nor does Bell Potter Securities Limited accept any responsibility to inform you of any matter that subsequently comes to its notice, which may affect any of the information contained in this document. This document is a private communication to clients and is not intended for public circulation or for the use of any third party, without the prior approval of Bell Potter Securities Limited. In the USA and the UK this research is only for institutional investors. It is not for release, publication or distribution in whole or in part to any persons in the two specified countries. This is general investment advice only and does not constitute advice to any person.
Disclosure of Interest: Bell Potter Securities Limited receives commission from dealing in securities and its authorised representatives, or introducers of business, may directly share in this commission. Bell Potter Securities and its associates may hold shares in the companies recommended.