Iron ore stronger for longer – but still set to drop
We have updated our commodity price and foreign exchange rate forecasts, including the mark-to-market for FY21 of our benchmark iron ore price. For the June 2021 quarter we measured the 62% Fe benchmark price at US$200.40/dmt which was 5.5% ahead of our US$190dmt forecast. We continue to see downside risk to the iron ore price as a result of lower Chinese steel production, increased iron ore production, the ongoing disruption of COVID-19 and maintain our forecast for it to drop in 1HFY22. However, the price has remained stronger than expected and we reflect this into FY22 and FY23, with increases of 9% (to US$143/dmt) and 5% (to US$100/dmt) respectively. We also continue to forecast a lower AUD:USD exchange rate, which we view is consistent with a dropping iron ore price, global interest rate differentials and Australia's (relatively) lagging COVID-19 vaccinisation rates.
Record dividend, bumper yields
These updates have a positive impact on our financial forecasts for FMG. Our key focus in the near term remains the dividend payout and yield. Our FY21 dividend increases 1.3% to A409cps, inclusive of a fully franked final dividend payment of A262cps (from A257cps), a 10.2% yield on its own. Our forecast prospective 12-month dividend payouts lift 5.7% to A460cps (from A435cps) as 1HFY22 captures our higher iron ore price forecast, for an interim payment of A198cps and forecast 17.9% fullyfranked yield. In our view FMG's fully franked dividend yields remain a key price support for the stock, even in our forecast environment of a declining iron ore price.
Investment thesis – Hold TP$24.06/sh (from Hold, $23.96/sh)
Our NPV-based target price increases incrementally to $24.06/sh and our FY21 and FY22 earnings forecasts increase 1% and 12% respectively on this update. The dividend remains a compelling price support, offsetting the recent share price appreciation to maintain a forecast total shareholder return of 11.4%. We retain our Hold recommendation, in conformity with our recommendation structure.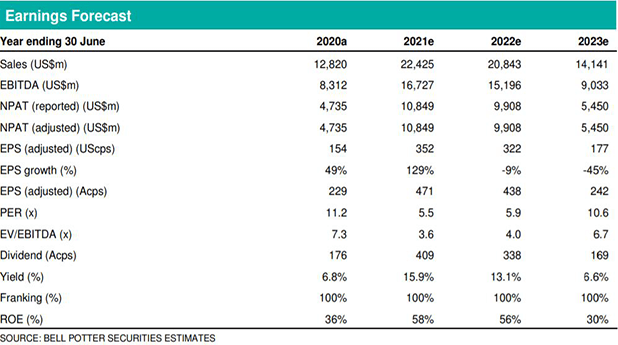 Authored by David Coates – Analyst – at Bell Potter Securities, 16 July 2021
Important Disclaimer—This may affect your legal rights: Because this document has been prepared without consideration of any specific client's financial situation, particular needs and investment objectives, a Bell Potter Securities Limited investment adviser (or the financial services licensee, or the proper authority of such licensee, who has provided you with this report by arrangement with Bell Potter Securities Limited) should be consulted before any investment decision is made. While this document is based on the information from sources which are considered reliable, Bell Potter Securities Limited, its directors, employees and consultants do not represent, warrant or guarantee, expressly or impliedly, that the information contained in this document is complete or accurate. Nor does Bell Potter Securities Limited accept any responsibility to inform you of any matter that subsequently comes to its notice, which may affect any of the information contained in this document. This document is a private communication to clients and is not intended for public circulation or for the use of any third party, without the prior approval of Bell Potter Securities Limited. In the USA and the UK this research is only for institutional investors. It is not for release, publication or distribution in whole or in part to any persons in the two specified countries. This is general investment advice only and does not constitute advice to any person.
Disclosure of Interest: Bell Potter Securities Limited receives commission from dealing in securities and its authorised representatives, or introducers of business, may directly share in this commission. Bell Potter Securities and its associates may hold shares in the companies recommended.