Valuation supportive, despite soft US quarter
ERD released a mixed 2Q22 trading update, with impressive unit growth in NZ and Australia, overshadowed by a disappointing result in the US, which was heavily impacted by the loss of a large enterprise customer (-1,751 units) that aligned its
technology with an acquirer (previously disclosed Jul'21). Notwithstanding the weak US result, Group churn remained low (5.9%), recently launched SaaS/hardware upgrade sales were strong, and the Coretex acquisition is expected to complete by the end of CY21. We estimate the merged Group is trading on ~3.7-3.8x FY22e EV/Sales on a pro forma basis (post-contingent consideration), which we view as compelling given the increased scale, product suite and cross-sell opportunities Coretex will
provide to the North American business in CY22e. Key regional highlights include:
Strong sales in NZ and Australia despite lockdowns: NZ unit growth of +2,892 was the strongest quarter since 3Q19, while Australian unit growth of +1,219 was a record. The Australian result was supported by the Ventia contract (~60% complete), although also reflects continued momentum with SME customers in the region.
North American result below expectations: The US had a net unit decline of -84 units (after normalising for the ~1,751 units), impacted by difficult operating conditions post-COVID and aggressive competition from a key competitor. There is a solid pipeline of prospects waiting to access the broader suite of products the Coretex acquisition will deliver, including the IoT hub (Corehub) and Android platform.
Investment view: Retain Buy recommendation
We have reduced our near-term unit growth assumptions accounting for the update, resulting in reductions to our revenue estimates by -2.2%, -3.5% and -2.8% for FY22e, FY23e, and FY24e respectively. We have also updated for the Jul'21 capital raising, although will not amend our numbers until completion occurs in the coming months, with ERD expecting to provide consolidated guidance at a similar time. US unit growth has been disappointing, although ERD is still in the early stages of expanding its platform offering and enterprise sales initiatives in the region, with Coretex expected to accelerate this process in CY22e. We reiterate our Buy recommendation, with our $6.05ps Price Target remaining unchanged until completion of the Coretex acquisition.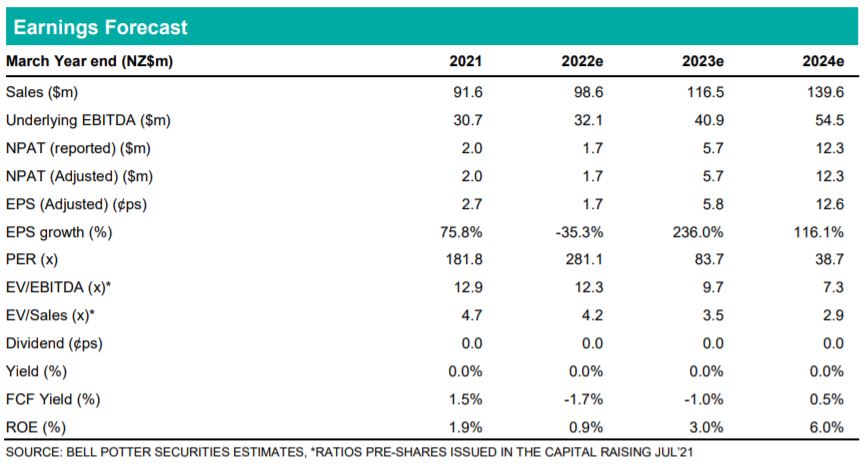 Authored by Hamish Murray – Analyst – at Bell Potter Securities, 22 October 2021
Important Disclaimer—This may affect your legal rights: Because this document has been prepared without consideration of any specific client's financial situation, particular needs and investment objectives, a Bell Potter Securities Limited investment adviser (or the financial services licensee, or the proper authority of such licensee, who has provided you with this report by arrangement with Bell Potter Securities Limited) should be consulted before any investment decision is made. While this document is based on the information from sources which are considered reliable, Bell Potter Securities Limited, its directors, employees and consultants do not represent, warrant or guarantee, expressly or impliedly, that the information contained in this document is complete or accurate. Nor does Bell Potter Securities Limited accept any responsibility to inform you of any matter that subsequently comes to its notice, which may affect any of the information contained in this document. This document is a private communication to clients and is not intended for public circulation or for the use of any third party, without the prior approval of Bell Potter Securities Limited. In the USA and the UK this research is only for institutional investors. It is not for release, publication or distribution in whole or in part to any persons in the two specified countries. This is general investment advice only and does not constitute advice to any person.
Disclosure of Interest: Bell Potter Securities Limited receives commission from dealing in securities and its authorised representatives, or introducers of business, may directly share in this commission. Bell Potter Securities and its associates may hold shares in the companies recommended.