Cuts costs, reaffirms FY23 guidance
Earlier this week Catapult provided an update of sorts and the key points were: costs are being reduced to accelerate a return to positive free cash flow; cost reductions are not expected to have a significant impact on growth; FY23 guidance of ACV growth >20% and churn <6% is reaffirmed; continuing to see strong growth with elite customers; and focus remains on integrating video and wearables solutions. The company said it continues to expect positive free cash flow in FY24 but the reduction in costs suggests the level will now be greater than previously anticipated. The areas of cost cutting were not specifically highlighted but Catapult said that investment is being concentrated in areas of "proven growth with strong margins" and the reductions will be in areas that are more "speculative".
Revenue downgrades, earnings upgrades
We have downgraded our FY23, FY24 and FY25 revenue forecasts by 3%, 2% and 2%. We figure the cost cuts have been partly driven by slightly weaker than expected top line growth this year – as well as the current macroeconomic environment – and these cuts will have some impact on future growth. We have, however, reduced our forecast underlying EBITDA loss in FY23 from US$9.8m to US$7.7m and modestly upgraded our underlying EBITDA forecasts in FY24 and FY25 – in absolute terms – on the back of the cost cuts. Our free cash flow forecast in FY24 is now modestly positive which suggests or implies we are still below the company's expectations for next year.
Investment view: PT down 9% to $1.00, Maintain HOLD
We have updated each valuation used in the determination of our price target for the forecast changes as well as market movements and time creep. On the back of the cost cuts and the lower expected top line growth we have also reduced the multiple applied in the EV/Revenue valuation from 1.75 to 1.50 and the terminal growth rate in the DCF from 5.0% to 4.0%. The net result is a 9% decrease in our PT to $1.00 which is <15% premium to the share price so we maintain our HOLD recommendation.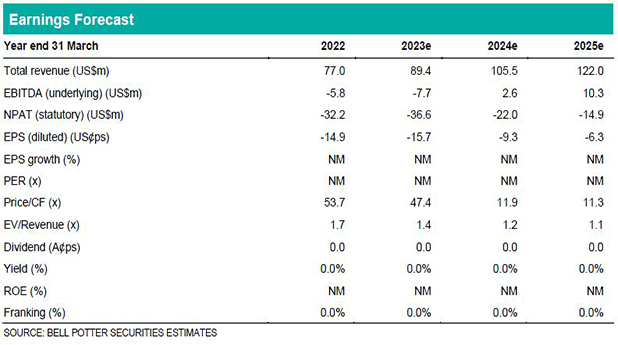 Authored by Chris Savage – Analyst – at Bell Potter Securities, 23 September 2022
Important Disclaimer—This may affect your legal rights: Because this document has been prepared without consideration of any specific client's financial situation, particular needs and investment objectives, a Bell Potter Securities Limited investment adviser (or the financial services licensee, or the proper authority of such licensee, who has provided you with this report by arrangement with Bell Potter Securities Limited) should be consulted before any investment decision is made. While this document is based on the information from sources which are considered reliable, Bell Potter Securities Limited, its directors, employees and consultants do not represent, warrant or guarantee, expressly or impliedly, that the information contained in this document is complete or accurate. Nor does Bell Potter Securities Limited accept any responsibility to inform you of any matter that subsequently comes to its notice, which may affect any of the information contained in this document. This document is a private communication to clients and is not intended for public circulation or for the use of any third party, without the prior approval of Bell Potter Securities Limited. In the USA and the UK this research is only for institutional investors. It is not for release, publication or distribution in whole or in part to any persons in the two specified countries. This is general investment advice only and does not constitute advice to any person.
Disclosure of Interest: Bell Potter Securities Limited receives commission from dealing in securities and its authorised representatives, or introducers of business, may directly share in this commission. Bell Potter Securities and its associates may hold shares in the companies recommended.