Leading player in counter-drone
DroneShield Limited (DRO) is an Australian defence manufacturer specialising in counter-drone technology. DRO provides an end to-end counter-drone solution that integrates proprietary artificial intelligence software with a suite of hardware products utilised to detect, identify and defeat aerial, ground and maritime threats. The company's products are largely in-house technology and include handheld, vehicular and fixed installations. DRO's customers primarily include military and intelligence, as well as law enforcement, critical infrastructure and commercial parties globally.
Opportunity for expansion into adjacent markets
DRO has developed advanced AI/ML capabilities in-house stemming from its experience in counter-drone and on-going R&D with the Australian DoD. The company now has the opportunity to expand outside its core business into the Electronic Warfare market, utilising its AI/ML technologies to detect and process complex signals on the electromagnetic spectrum. DRO's appointment to the ISREW Panel and its ongoing R&D contracts are a strong endorsement of its capabilities in this field and raise the prospect of future revenue streams outside its core competencies.
Investment View: Initiate with Buy, Price Target $0.24
In our view, DRO is well placed to capitalise on favourable macroeconomic conditions accelerating structural growth in the market, with the strong sales pipeline (~$100m CY22, ~$250m CY23 onwards) identified by the company demonstrating long term demand. The conversion rates we apply to the sales pipeline are intentionally conservative, leaving potential upside risk to our revenue forecasts. Potential catalysts include validation of the sales pipeline through consistent contract wins and greater visibility over the pipeline through CY23 and beyond.
We initiate coverage of DRO with a BUY recommendation and a 12 month price target of $0.24. The price target is a 50/50 blend of the DCF and relative valuation methods, resulting in a 46.0% premium to the current share price.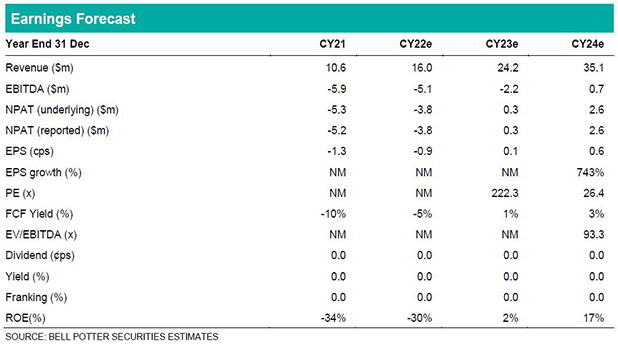 Authored by Daniel Laing – Analyst – at Bell Potter Securities, 26 September 2022
Important Disclaimer—This may affect your legal rights: Because this document has been prepared without consideration of any specific client's financial situation, particular needs and investment objectives, a Bell Potter Securities Limited investment adviser (or the financial services licensee, or the proper authority of such licensee, who has provided you with this report by arrangement with Bell Potter Securities Limited) should be consulted before any investment decision is made. While this document is based on the information from sources which are considered reliable, Bell Potter Securities Limited, its directors, employees and consultants do not represent, warrant or guarantee, expressly or impliedly, that the information contained in this document is complete or accurate. Nor does Bell Potter Securities Limited accept any responsibility to inform you of any matter that subsequently comes to its notice, which may affect any of the information contained in this document. This document is a private communication to clients and is not intended for public circulation or for the use of any third party, without the prior approval of Bell Potter Securities Limited. In the USA and the UK this research is only for institutional investors. It is not for release, publication or distribution in whole or in part to any persons in the two specified countries. This is general investment advice only and does not constitute advice to any person.
Disclosure of Interest: Bell Potter Securities Limited receives commission from dealing in securities and its authorised representatives, or introducers of business, may directly share in this commission. Bell Potter Securities and its associates may hold shares in the companies recommended.