Lifting our near-term lithium pricing outlook
We have lifted our near-term lithium price outlook as outlined in the following table.

EPS changes as a result of these lithium commodity price upgrades are: FY23 +21%; FY24 +23%; and FY25 +2%.
Lithium: Demand outlook retained; supply constrained
We have updated our EV-led lithium demand model with no change to our bullish outlook; LCE demand to grow from around 0.5Mtpa in 2021 to over 1.1Mtpa in 2025 and around 3.0Mtpa in 2030. Supply analysis shows that over the next five years, Australian hard rock projects will at best meet only one third of this demand growth. We expect alternative sources of supply to remain relatively constrained and high-risk.
Investment view: Buy, TP$20.04/sh (prev $18.76/sh)
We expect AKE's cash generation to lift substantially into 2023 with ongoing strength in lithium demand, commodity prices and production growth. AKE is aiming to maintain 10% share of supply in a global lithium market experiencing unprecedented growth; it has a portfolio of growth projects, balance sheet strength and cash flow from existing projects to achieve this. AKE's portfolio is also diversified across lithium commodity, mode of production, asset location and end-user country.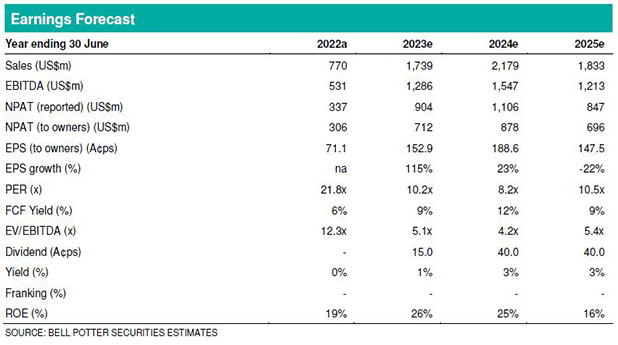 Authored by Stuart Howe – Analyst – at Bell Potter Securities, 12 September 2022
Important Disclaimer—This may affect your legal rights: Because this document has been prepared without consideration of any specific client's financial situation, particular needs and investment objectives, a Bell Potter Securities Limited investment adviser (or the financial services licensee, or the proper authority of such licensee, who has provided you with this report by arrangement with Bell Potter Securities Limited) should be consulted before any investment decision is made. While this document is based on the information from sources which are considered reliable, Bell Potter Securities Limited, its directors, employees and consultants do not represent, warrant or guarantee, expressly or impliedly, that the information contained in this document is complete or accurate. Nor does Bell Potter Securities Limited accept any responsibility to inform you of any matter that subsequently comes to its notice, which may affect any of the information contained in this document. This document is a private communication to clients and is not intended for public circulation or for the use of any third party, without the prior approval of Bell Potter Securities Limited. In the USA and the UK this research is only for institutional investors. It is not for release, publication or distribution in whole or in part to any persons in the two specified countries. This is general investment advice only and does not constitute advice to any person.
Disclosure of Interest: Bell Potter Securities Limited receives commission from dealing in securities and its authorised representatives, or introducers of business, may directly share in this commission. Bell Potter Securities and its associates may hold shares in the companies recommended.