Robust FY21 result, shipping delays raises near-term risks
BRG announced underlying FY21 EBIT of $136.4m, up 24.1% YoY (on restated basis) and in line with company guidance. The key result takeaways include:
Strong revenue growth throughout FY21: BRG's key Global Product segment achieved 37.0% constant currency revenue growth, with all regions contributing strongly. This includes the Americas +27.6%, EMEA +58.4% and APAC +37.4%. Increased consumer demand driven by work-from-home, coupled with successful geographic expansion, offset the impact of intermittent supply challenges.
International rollout on track: Despite covid impacts, BRG's international rollout continued to progress to plan. The material lift in EMEA revenue reflects strong growth in the UK throughout the year, traction in Germany/Austria/Benelux/Switzerland, & ramp-up in Spain/France (launched in FY20/1Q21). In 4Q21, BRG also launched in Portugal/Italy, while in the Americas, BRG launched in Mexico.
Although more challenges ahead, esp. due to shipping delays: The key challenges are: 1) inventory constraints due to supply chain delays (end-FY21 inventory ~$80m below target); 2) supplier chain cost pressures/parts challenges; and 3) the potential transitional demand outlook as consumers begin to spend on services (in those countries opening up). Levers to counter these challenges include: 1) taking price increases where appropriate (= gross margin cushion); & 2) costs levers (= flex on CODB/sales), noting the FY21 EBIT result absorbed $49m of increased investment. Furthermore, is the potential reversal of doubtful debt provisioning (~$8.4m off 1H21 EBIT), although the timing of this is uncertain.
Net cash of $129.9m, although a significant rebuild in working capital is planned.
Earnings changes / Investment View: Retain Hold, PT $30.50
Given supply chain risks and a potential transitional demand outlook, we have lowered our growth forecasts. Net effect is our FY22-FY24 EPS decrease by -2.8%/-4.0/-7.5%. Partially offset by model roll forward, our PT decreases to $30.50 (previously $32.25). While we continue to have a positive view on BRG's long-term growth prospects, we are mindful of the near-term macro risks and BRG's valuation. Hold rating retained.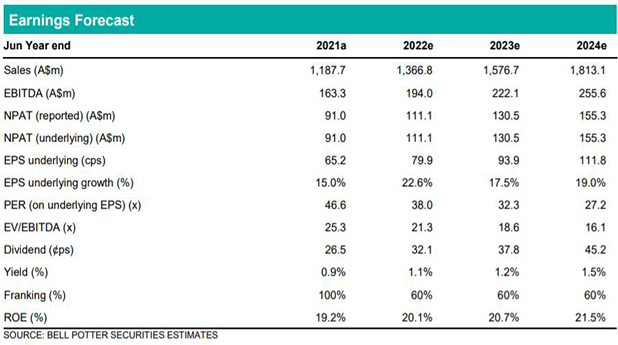 Authored by Sam Haddad – Analyst – at Bell Potter Securities, 17 August 2021
Important Disclaimer—This may affect your legal rights: Because this document has been prepared without consideration of any specific client's financial situation, particular needs and investment objectives, a Bell Potter Securities Limited investment adviser (or the financial services licensee, or the proper authority of such licensee, who has provided you with this report by arrangement with Bell Potter Securities Limited) should be consulted before any investment decision is made. While this document is based on the information from sources which are considered reliable, Bell Potter Securities Limited, its directors, employees and consultants do not represent, warrant or guarantee, expressly or impliedly, that the information contained in this document is complete or accurate. Nor does Bell Potter Securities Limited accept any responsibility to inform you of any matter that subsequently comes to its notice, which may affect any of the information contained in this document. This document is a private communication to clients and is not intended for public circulation or for the use of any third party, without the prior approval of Bell Potter Securities Limited. In the USA and the UK this research is only for institutional investors. It is not for release, publication or distribution in whole or in part to any persons in the two specified countries. This is general investment advice only and does not constitute advice to any person.
Disclosure of Interest: Bell Potter Securities Limited receives commission from dealing in securities and its authorised representatives, or introducers of business, may directly share in this commission. Bell Potter Securities and its associates may hold shares in the companies recommended.