Continued challenges in commercial wine channels
At headline level AVG's FY23e revenue and EBITDAS guidance were broadly in-line with BPe expectations. Group revenue in FY23e (subject to FX) is expected to fall in the range of $255-260m (vs. $260.1m FY22 and BPe prev. $262.3m), whilst underlying EBITDAS guidance is for $26-28m (vs. $43.7m FY22 and BPe prev. $27.6m). However, we note abovementioned guidance excludes the impact of a $9m fixed cost write off taken below the line which was necessitated by the magnitude of a lower 2023 vintage. AVG's net debt position at FY23e is forecast to be $52-57m and compares to BPe prev. $51.5m.
With growing conditions having worsened during key yield development months earlier this year, AVG's company owned and leased crush came in materially below previous guidance at ~80kt (prev. 96k), representing a ~20% yield decline vs. 2022 (although we note this compares to anecdotal reports from smaller Riverland growers of -30-50% YOY). At this stage the company expects EBITDAS to improve in FY24e to be "directionally" in-line with FY22 (i.e. $43.7m).
Outlook comments include: (1) AVG continues to win market share in premium product segments; (2) declining off-trade consumption trends in commercial wine segments and UK hyperinflation continue to offset branding progress; (3) AVG is targeting $9m cost out in FY24e; (4) a focus on reducing net debt, suspending the FY23e dividend and future dividends until ND/EBITDA (pre-AASB 16) is below 2x (currently ~3x); and (5) AVG flagged potential further asset sales to release value.
Investment view: Maintain Hold recommendation
Our EPS changes are -10-20% off a low base across FY23-25e. AVG continues to shift its product mix up the value curve, with growth in higher value no and low alcohol categories sales (+44% in 1H23) continuing to effectively offset the company's top-line despite losses in commercial channels (McGuigan -11% in 1H23). However, whilst commercial wine for the meantime still represents the majority of the product portfolio (~65%), the delta on these lost volumes is likely to continue to have a greater absolute (negative) impact on earnings. We retain our Hold recommendation.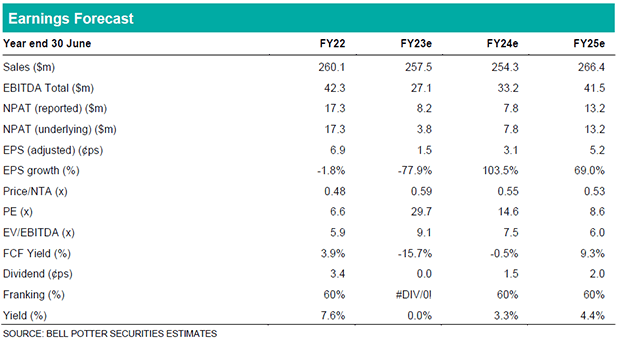 Authored by Sam Brandwood – Analyst – at Bell Potter Securities, 15 June 2023
Important Disclaimer—This may affect your legal rights: Because this document has been prepared without consideration of any specific client's financial situation, particular needs and investment objectives, a Bell Potter Securities Limited investment adviser (or the financial services licensee, or the proper authority of such licensee, who has provided you with this report by arrangement with Bell Potter Securities Limited) should be consulted before any investment decision is made. While this document is based on the information from sources which are considered reliable, Bell Potter Securities Limited, its directors, employees and consultants do not represent, warrant or guarantee, expressly or impliedly, that the information contained in this document is complete or accurate. Nor does Bell Potter Securities Limited accept any responsibility to inform you of any matter that subsequently comes to its notice, which may affect any of the information contained in this document. This document is a private communication to clients and is not intended for public circulation or for the use of any third party, without the prior approval of Bell Potter Securities Limited. In the USA and the UK this research is only for institutional investors. It is not for release, publication or distribution in whole or in part to any persons in the two specified countries. This is general investment advice only and does not constitute advice to any person.
Disclosure of Interest: Bell Potter Securities Limited receives commission from dealing in securities and its authorised representatives, or introducers of business, may directly share in this commission. Bell Potter Securities and its associates may hold shares in the companies recommended.