Unleashing the Future of Enterprise Asset Management
COSOL Limited (COS) is an ASX-listed company operating in Australia and North America. With a foundation established in 2000, COSOL specializes in digital IT solutions, focusing on enterprise asset management software platforms and data management. As a global leader in enterprise asset management (EAM) technology-enabled solutions, COSOL optimizes operations in asset-intensive industries, including natural resources, energy and water utilities, defence and public infrastructure.
Compelling value proposition
The information presented highlights the compelling value proposition of COSOL in the Enterprise Asset Management (EAM) Industry, with strong financial growth, a diverse client base, strategic partnerships, and a focus on sustainability, COSOL demonstrates its ability to deliver innovative solutions and drive industry-wide transformation. The company's ownership alignment, international expansion, and scalable business model positions it well as a leader in the market. As the EAM software market continues to grow, COSOL's suite of digital technology solutions and forward-thinking approach position it well for future success.
Investment view: Initiate with a BUY rating and $1.00 PT
We initiate coverage of COSOL, with a buy recommendation and a 12 month price target of $1.00. The price target is generated from a blend of three valuation methodologies we apply to the company: DCF, EV/EBIT and PE Ratio. We have opted to apply a 10% premium, to the average EV/EBIT and PE multiples of the listed peers. While this premium may be considered moderate, we conclude that a moderate premium is warranted given the robust contract pipeline in Australia and North America with an ambitious growth agenda through organic means and acquisitions to sustain growth in the future. In our view COSOL shows value on a FY23 EV/EBIT and PE Ratio of <10x given the strong footprint and forecasted strong growth in FY24 and FY25.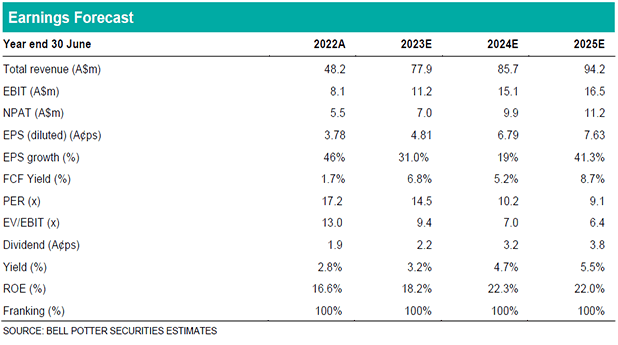 Authored by Thomas Sima – Analyst – at Bell Potter Securities, 20 June 2023
Important Disclaimer—This may affect your legal rights: Because this document has been prepared without consideration of any specific client's financial situation, particular needs and investment objectives, a Bell Potter Securities Limited investment adviser (or the financial services licensee, or the proper authority of such licensee, who has provided you with this report by arrangement with Bell Potter Securities Limited) should be consulted before any investment decision is made. While this document is based on the information from sources which are considered reliable, Bell Potter Securities Limited, its directors, employees and consultants do not represent, warrant or guarantee, expressly or impliedly, that the information contained in this document is complete or accurate. Nor does Bell Potter Securities Limited accept any responsibility to inform you of any matter that subsequently comes to its notice, which may affect any of the information contained in this document. This document is a private communication to clients and is not intended for public circulation or for the use of any third party, without the prior approval of Bell Potter Securities Limited. In the USA and the UK this research is only for institutional investors. It is not for release, publication or distribution in whole or in part to any persons in the two specified countries. This is general investment advice only and does not constitute advice to any person.
Disclosure of Interest: Bell Potter Securities Limited receives commission from dealing in securities and its authorised representatives, or introducers of business, may directly share in this commission. Bell Potter Securities and its associates may hold shares in the companies recommended.