Deep Dive into Afterpay + WBC Collaboration
In this report we perform a deep dive into Afterpay and WBC's collaboration to introduce Afterpay branded savings and transaction accounts, along with budgeting tools. We see this as a step change in APT's product offering, and as a deliberate strategy for WBC to break CBA's stranglehold on the millennial banking market. We believe CBA should be worried, and perhaps is, which is seen with comments from their CEO Matt Comyn at the Banking Summit in November last year, who noted Afterpay as a potential threat to the banking sector over time. It perhaps also explains CBA's over $100m investment in Afterpay's competitor, Klarna. If APT is successful in launching white labelled WBC banking products in Australia it is likely the market will have confidence in APT rolling out a similar offering in all its jurisdictions, providing meaningful valuation upside.
2021 is shaping up as a material year for APT, with the following key developments or catalysts noted below:
APT is set to report its 1H20 result on Thursday 25th of February. We anticipate
an update on the EU launch, Canada progress, US instore, Asia expansion, and
potentially any tech collaboration developments (Tencent, WBC, Stripe, VISA,
Apple, Google, Mastercard, Worldpay);
EU Launch scheduled for March quarter;
WBC/Afterpay product launch scheduled for June quarter; and
Asia Expansion scheduled for September quarter.
We have made no earnings revisions as part of this report. However, we have rolled our valuation forward, primarily impacting our average customer number utilised in our LVC based valuation, and as a result of this we have a revised Price Target of $168.50 per share (previously $140.00), with our Buy recommendation remaining unchanged.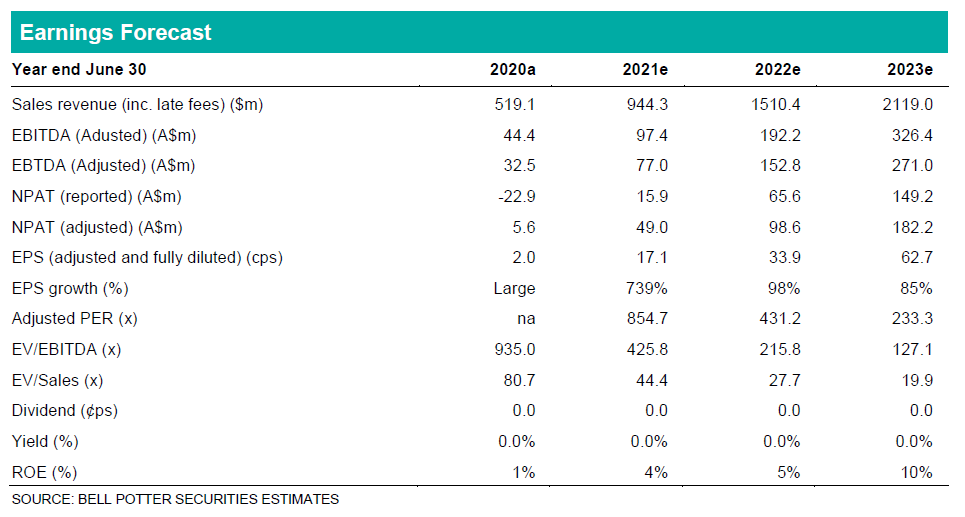 Authored by Lafitani Sotiriou – Analyst – at Bell Potter Securities, 4 February 2021
Important Disclaimer—This may affect your legal rights: Because this document has been prepared without consideration of any specific client's financial situation, particular needs and investment objectives, a Bell Potter Securities Limited investment adviser (or the financial services licensee, or the proper authority of such licensee, who has provided you with this report by arrangement with Bell Potter Securities Limited) should be consulted before any investment decision is made. While this document is based on the information from sources which are considered reliable, Bell Potter Securities Limited, its directors, employees and consultants do not represent, warrant or guarantee, expressly or impliedly, that the information contained in this document is complete or accurate. Nor does Bell Potter Securities Limited accept any responsibility to inform you of any matter that subsequently comes to its notice, which may affect any of the information contained in this document. This document is a private communication to clients and is not intended for public circulation or for the use of any third party, without the prior approval of Bell Potter Securities Limited. In the USA and the UK this research is only for institutional investors. It is not for release, publication or distribution in whole or in part to any persons in the two specified countries. This is general investment advice only and does not constitute advice to any person.
Disclosure of Interest: Bell Potter Securities Limited receives commission from dealing in securities and its authorised representatives, or introducers of business, may directly share in this commission. Bell Potter Securities and its associates may hold shares in the companies recommended.
Lafitani Sotiriou, authoring analyst, holds long positions in APT.
Disclosure: Bell Potter Securities acted as a participant in the July 2020 $650m placement and ~$250m sell down and received fees for that service.