AIS acquiring Round Oak Minerals for $234m cash and scrip
AIS has entered into a binding agreement with Washington H. Soul Pattinson (WHSP), to acquire Round Oak Minerals (ROM) for total consideration of $234m. It comprises a cash payment of $80m and a scrip component of 1,466.7m new AIS shares, to be issued at a price of $0.105/sh, valued at $154m. Following the deal, WHSP will hold approximately 30.3% of AIS. AIS is funding the cash component via a fully underwritten $117m equity raising and entitlement offer, also priced at $0.105/sh. A total of 2,582.1m new shares will be issued.
Round Oak Minerals' assets
ROM is an Australian copper and zinc producer with operating mines and development assets within three of Australia's premier base and precious metals terranes: the producing Jaguar zinc-copper mine in WA; the producing Mt Colin underground copper gold mine in QLD and the Stockman copper-zinc project in VIC. The acquisition adds production source and commodity diversity for AIS. Previously exposed only to copper and gold, we estimate that AIS' revenues will now have 15% and 5% exposure to zinc and silver, respectively, over FY23-FY30. The Stockman development project has a planned life of +10 years which, together with Tritton, gives AIS two long-life assets which we believe create a strong foundation for growth. We also view the acquisition as good value. AIS states an FY23e EV/EBITDA multiple of 1.9x for the deal (we estimate 2.1x FY23e EBITDA), with AIS trading on similar multiples in the lead-up to the deal. If there is a downside, it is the price at which the new equity has been issued, leading to EPS dilution. However, we argue this is offset by likely multiple expansion, due to AIS' increased scale, diversity and growth.
Investment thesis – Buy, TP$0.21/sh (from Buy, TP$0.25/sh)
Post-completion, ROM adds significant copper and zinc production, lifting AIS' FY23 and FY24 earnings 60% and 24% respectively. In FY22, EPS is cut 45% by the dilution of the deal and with no additional earnings. In FY23 and FY24 EPS is reduced by 26% and 46%, respectively. Our NPV-based valuation is cut 16% to $0.21/sh. We retain our Buy recommendation.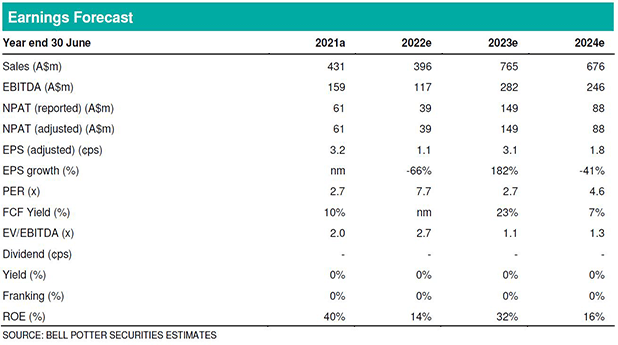 Authored by David Coates – Analyst – at Bell Potter Securities, 13 May 2022
Important Disclaimer—This may affect your legal rights: Because this document has been prepared without consideration of any specific client's financial situation, particular needs and investment objectives, a Bell Potter Securities Limited investment adviser (or the financial services licensee, or the proper authority of such licensee, who has provided you with this report by arrangement with Bell Potter Securities Limited) should be consulted before any investment decision is made. While this document is based on the information from sources which are considered reliable, Bell Potter Securities Limited, its directors, employees and consultants do not represent, warrant or guarantee, expressly or impliedly, that the information contained in this document is complete or accurate. Nor does Bell Potter Securities Limited accept any responsibility to inform you of any matter that subsequently comes to its notice, which may affect any of the information contained in this document. This document is a private communication to clients and is not intended for public circulation or for the use of any third party, without the prior approval of Bell Potter Securities Limited. In the USA and the UK this research is only for institutional investors. It is not for release, publication or distribution in whole or in part to any persons in the two specified countries. This is general investment advice only and does not constitute advice to any person.
Disclosure of Interest: Bell Potter Securities Limited receives commission from dealing in securities and its authorised representatives, or introducers of business, may directly share in this commission. Bell Potter Securities and its associates may hold shares in the companies recommended.