Path to doubling & extending Otway production
COE has released updated details of its near-term Otway Basin development plans, outlining a path to more than double existing output and extend the project's life. The Otway Phase 3 Development (OP3D) will now focus on developing the Annie field before targeting low risk and high deliverability prospects to further expand production. With capital efficiency the key focus, further development of the Henry field has been deferred to beyond the OP3D horizon. Under the revised outlook, we estimate COE's net Otway production will grow from around 13TJ/day in 2022 to more than 30TJ/day in 2026, and complement Sole production of around 65TJ/day. OP3D will enter Front End Engineering Design (FEED) in the September 2022 quarter for a Final Investment Decision (FID) in early 2023 and first gas by winter 2025.
Guidance revised on a strong end to the year
COE has also revised guidance for FY22 on account of higher spot gas prices and improved performance at the Orbost Gas Plant. Gas prices have averaged over $35/GJ in recent days, compared with $9.47/GJ in the March 2022 quarter. Following recent upgrades and an absorber clean, the Orbost Gas Plant has processed Sole gas at record rates of up to 65TJ/day. COE are now guiding to FY22 EBITDA of $57-68m (previously $53-63m).
Investment view: Buy, Target Price $0.33/sh (from $0.38/sh)
Our Buy recommendation is retained, supported by strong Australian east coast gas market supply-demand fundamentals and COE's portfolio of conventional gas assets. Over FY23, we expect COE to further de-risk its current operations and provide more detail the company's growth ambitions across its Otway and Gippsland production hubs. COE's forthcoming debt refinance should provide more development flexibility; with the company's net zero carbon emission objective assisting with lender support. Changes to EPS in this report: FY22 -0.2cps (previously -0.5cps); FY23 -15%; and FY24 -16%.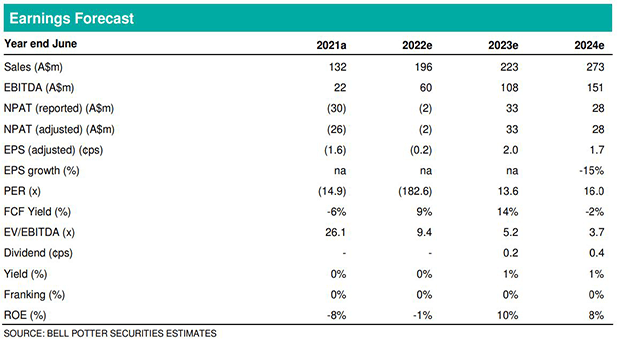 Authored by Stuart Howe & Joseph House – Analysts – at Bell Potter Securities, 19 May 2022
Important Disclaimer—This may affect your legal rights: Because this document has been prepared without consideration of any specific client's financial situation, particular needs and investment objectives, a Bell Potter Securities Limited investment adviser (or the financial services licensee, or the proper authority of such licensee, who has provided you with this report by arrangement with Bell Potter Securities Limited) should be consulted before any investment decision is made. While this document is based on the information from sources which are considered reliable, Bell Potter Securities Limited, its directors, employees and consultants do not represent, warrant or guarantee, expressly or impliedly, that the information contained in this document is complete or accurate. Nor does Bell Potter Securities Limited accept any responsibility to inform you of any matter that subsequently comes to its notice, which may affect any of the information contained in this document. This document is a private communication to clients and is not intended for public circulation or for the use of any third party, without the prior approval of Bell Potter Securities Limited. In the USA and the UK this research is only for institutional investors. It is not for release, publication or distribution in whole or in part to any persons in the two specified countries. This is general investment advice only and does not constitute advice to any person.
Disclosure of Interest: Bell Potter Securities Limited receives commission from dealing in securities and its authorised representatives, or introducers of business, may directly share in this commission. Bell Potter Securities and its associates may hold shares in the companies recommended.