All cash takeover from IGO
WSA has entered into a Scheme Implementation Deed (SID) with IGO Limited (IGO, under review) under which IGO will acquire WSA for A$3.36/sh in cash, by way of a scheme of arrangement. On a fully diluted basis this implies an equity valuation of A$1,096m and represents a 35.5% premium to WSA's undisturbed share price (prior to the announcement of a potential change of control transaction) of A$2.48. WSA's Board has unanimously recommended the SID (in the absence of a superior proposal). Top shareholder, Perpetual Limited, which holds 14.7% of WSA, has announced its conditional support for the SID. IGO intends to fund the acquisition via a new A$900m debt facility and its existing cash reserves of A$552m. Provisionally, the SID is planned for implementation by April 2022.
Cash consideration tops our expectations
This is a fantastic result for WSA shareholders. It effectively brings forward and derisks the value of WSA's production and development portfolio, crystallised via a cash consideration. The equity valuation of A$3.36/sh is well ahead of our previous target price of A$2.90/sh, which was inclusive of a takeover premium. Our earnings forecasts for WSA show marginal profitability or losses for FY22 and FY23 and no dividends. WSA's prime asset, Odysseus, while progressing well towards first concentrate production by December CY22, remains exposed to scheduling, construction and cost risks. These risks are now transferred to IGO shareholders – to whom we also see no material earnings or free cash flow accretion until FY24 at the earliest. In this context we view IGO as having paid an unnecessarily high premium. Indeed, the solid strategic rationale for the deal which, in our view, delivers greater de-risking benefits to WSA shareholders, may well have justified a lower-than-benchmark premium be paid.
Investment thesis – Hold, TP$3.36/sh (was Sell, TP$2.90/sh)
We make no changes to our earnings forecasts with this update. We adjust our valuation to reflect the acquisition consideration being offered by IGO, adding a $285m premium to our underlying WSA valuation. We upgrade to a Hold recommendation.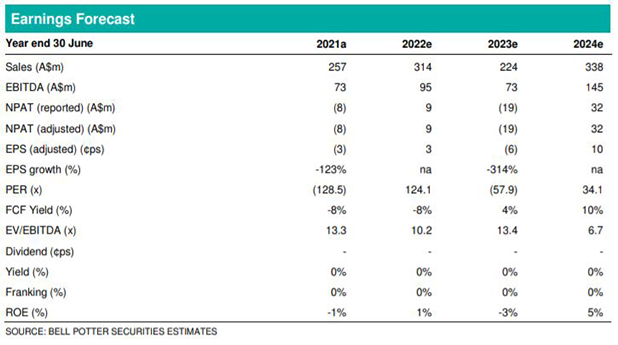 Authored by David Coates – Analyst – at Bell Potter Securities, 17 December 2021
Important Disclaimer—This may affect your legal rights: Because this document has been prepared without consideration of any specific client's financial situation, particular needs and investment objectives, a Bell Potter Securities Limited investment adviser (or the financial services licensee, or the proper authority of such licensee, who has provided you with this report by arrangement with Bell Potter Securities Limited) should be consulted before any investment decision is made. While this document is based on the information from sources which are considered reliable, Bell Potter Securities Limited, its directors, employees and consultants do not represent, warrant or guarantee, expressly or impliedly, that the information contained in this document is complete or accurate. Nor does Bell Potter Securities Limited accept any responsibility to inform you of any matter that subsequently comes to its notice, which may affect any of the information contained in this document. This document is a private communication to clients and is not intended for public circulation or for the use of any third party, without the prior approval of Bell Potter Securities Limited. In the USA and the UK this research is only for institutional investors. It is not for release, publication or distribution in whole or in part to any persons in the two specified countries. This is general investment advice only and does not constitute advice to any person.
Disclosure of Interest: Bell Potter Securities Limited receives commission from dealing in securities and its authorised representatives, or introducers of business, may directly share in this commission. Bell Potter Securities and its associates may hold shares in the companies recommended.