There is not much difference in the Chairman's address, being about COVID-19 and work continues in respect of performance and future of the business. While this appears to be well progressed, the years ahead continue to have their challenges. Nevertheless, there is a strong focus on customers/colleagues and to grow the business safely. NAB is now the second largest major bank by market capitalisation. The payout ratio is now close to its maximum, being 65-75% of cash earnings. ROE was 10.7% in FY21 and still climbing, while CET1 ratio was 13% and ahead of the 10.75-11.25% target range. The bank still intends to return surplus capital, being 40% complete. The acquisition of 86 400 plus the proposed acquisition of Citigroup's Australian consumer business will see the bank achieve scale in digital and consumer banking offerings. Likewise, change has been made as to how the bank has treated governance, accountability and culture. A number of regulatory matters have also been concluded and $1.3bn has been returned to customers. As mentioned earlier, core earnings continued to improve and there were no large one-off items. The bread and butter role of its largest division Business & Private Banking had another good year in market share, likewise Personal Banking and Corporate & Institutional although Markets remains difficult for the time being.
Price target increased to $32.00, Buy rating unchanged
Our FY22 and FY23 forecast earnings are slightly increased by 1%, all else being equal. We have also slightly increased NAB's valuation by around 3% and this is mainly due to better premiums ahead in Business & Private Banking (FY22 PE 15.5x), Personal Banking (FY22 PE 14.0x) and Corporate & Institutional Banking (FY22 PE 15.0x). Based also on a PB of now 1.6x overall, we have increased NAB's valuation and price target by 3% to $32.00 (previously $31.00). The Buy rating is unchanged.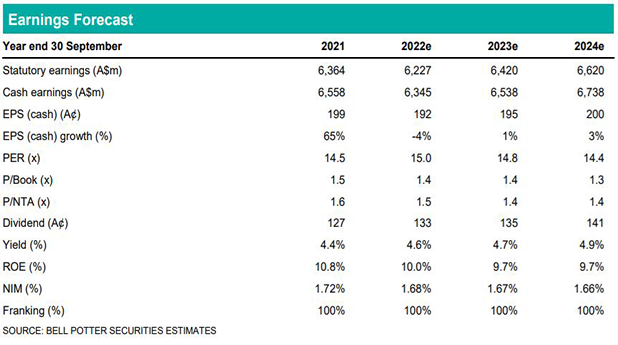 Authored by TS Lim – Analyst – at Bell Potter Securities, 17 December 2021
Important Disclaimer—This may affect your legal rights: Because this document has been prepared without consideration of any specific client's financial situation, particular needs and investment objectives, a Bell Potter Securities Limited investment adviser (or the financial services licensee, or the proper authority of such licensee, who has provided you with this report by arrangement with Bell Potter Securities Limited) should be consulted before any investment decision is made. While this document is based on the information from sources which are considered reliable, Bell Potter Securities Limited, its directors, employees and consultants do not represent, warrant or guarantee, expressly or impliedly, that the information contained in this document is complete or accurate. Nor does Bell Potter Securities Limited accept any responsibility to inform you of any matter that subsequently comes to its notice, which may affect any of the information contained in this document. This document is a private communication to clients and is not intended for public circulation or for the use of any third party, without the prior approval of Bell Potter Securities Limited. In the USA and the UK this research is only for institutional investors. It is not for release, publication or distribution in whole or in part to any persons in the two specified countries. This is general investment advice only and does not constitute advice to any person.
Disclosure of Interest: Bell Potter Securities Limited receives commission from dealing in securities and its authorised representatives, or introducers of business, may directly share in this commission. Bell Potter Securities and its associates may hold shares in the companies recommended.