Solid result, Home Improvement adds new growth horizon
TPW announced 1H22 revenue of $235.4m (vs BPe $231.4m), up +46% YoY. 1H22 EBITDA of $12.0m was in line vs our $11.9m estimate. Key highlights of the result are:
Revenue growth holding up well vs difficult backdrop: 1H22 revenue growth of +46% (cycling +118%) compares with +56% growth to 15 Oct'21, implying only a modest slowing exiting the half despite the end of lockdowns. Entering 2H22, revenue growth remains solid with 2H-to-date revenue up +26% YoY (cycling >100%) despite softness in the broader consumer market due to omicron.
1H22 EBITDA margin of 5.1%, although full year EBITDA margin guide of 2-4% reaffirmed: TPW previously provided EBITDA margin guide of 2-4% during its 'scale up' phase. The company reaffirmed this range for FY22, although 1H22 was above at 5.1% due to the timing of investments (as guided at TPW's AGM).
New growth horizons gaining traction and materially expand TAM: Trade & Commercial (~7% of revenue) increased +49% YoY despite lockdown disruptions while TPW's new Home Improvement offering (~4% of revenue) lifted +95%. The Home Improvement horizon represents a ~$16b addressable market, expanding TPW's TAM to ~$35b (incl. B2C ~$16b / B2B >$3b / Home Improvement ~$16b), whilst also being counter cyclical to the housing market (moving vs renovating).
Net cash ~$105.5m; we believe bolt-on acquisition(s) could be on the cards in CY2022: Net cash of $105.5m (vs end-FY21 $97.5m), provides ample capacity to make bolt-on acquisitions, such as in digital capability, product range, brand awareness, or to accelerate growth in TPW's B2B / Home Improvement offerings.
Investment view: Upgrade from Hold to Buy, PT $12.10
We have moderated our revenue growth forecasts as conservative measure in a rising interest rate environment, although we are yet to allow for upside from TPW's Home Improvement offering. The net effect is our PT reduces to $12.10 (previously $12.75). Following TPW's share price retreat, we believe valuation is now more appealing with FY23e EV/sales ~1.8x. Also, TPW's new growth horizons (B2B / Home Improvement), the structural shift to online plus M&A prospects, provide attractive offsetting benefits vs potential risks from the housing cycle. Accordingly, we upgrade from Hold to Buy.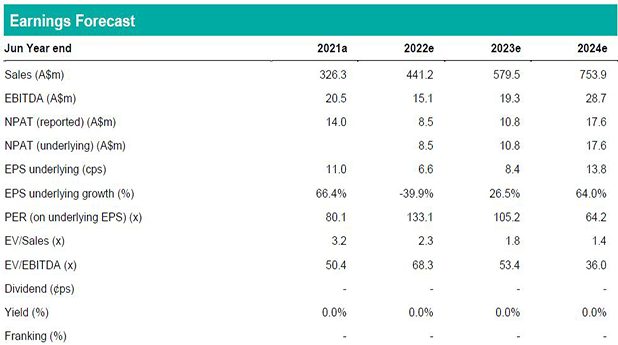 Authored by Sam Haddad – Analyst – at Bell Potter Securities, 9 February 2022
Important Disclaimer—This may affect your legal rights: Because this document has been prepared without consideration of any specific client's financial situation, particular needs and investment objectives, a Bell Potter Securities Limited investment adviser (or the financial services licensee, or the proper authority of such licensee, who has provided you with this report by arrangement with Bell Potter Securities Limited) should be consulted before any investment decision is made. While this document is based on the information from sources which are considered reliable, Bell Potter Securities Limited, its directors, employees and consultants do not represent, warrant or guarantee, expressly or impliedly, that the information contained in this document is complete or accurate. Nor does Bell Potter Securities Limited accept any responsibility to inform you of any matter that subsequently comes to its notice, which may affect any of the information contained in this document. This document is a private communication to clients and is not intended for public circulation or for the use of any third party, without the prior approval of Bell Potter Securities Limited. In the USA and the UK this research is only for institutional investors. It is not for release, publication or distribution in whole or in part to any persons in the two specified countries. This is general investment advice only and does not constitute advice to any person.
Disclosure of Interest: Bell Potter Securities Limited receives commission from dealing in securities and its authorised representatives, or introducers of business, may directly share in this commission. Bell Potter Securities and its associates may hold shares in the companies recommended.