SM1 have downwardly revised FY23e NPAT expectations relative to market expectations ahead of its 1H23e result. Key points below:
NPAT guidance statements: FY23e NPAT is forecast at NZ$15-25m, which is lower than our previous NZ$35.8m forecast (and consensus of ~NZ$50m). Major drivers of the changes to expectations have been listed as order deferrals from major IMF customers, inflationary cost pressures, lower milk production levels and higher working capital funding costs. SM1 has also stated that the two year recovery plan is likely to now take three years, implying a lower FY23e exit rate than previously suggested (previous guidance was for a FY23e exit run rate more consistent with profitability levels pre-FY21), reflecting elevated costs and reduced customer demand.
Nutritionals: Our previous forecasts had implied limited demand growth from A2M in FY23e (we note A2M FY23e revenue guidance was unchanged in Feb'22), with low-mid single digit volume growth in FY24-25e assuming SAMR registration and a resumption of growth in China distribution points. These estimates remain broadly unchanged. However, we have moderated assumed volume ramp-up profiles for both the new Pokeno and new base powder customers.
Following the update we have downgraded our EBITDA forecasts by -11% in FY23e, -12% in FY24e and -11% in FY25e. This along with a higher funding cost to carry working capital, results in NPAT downgrades of -43% in FY23e, -33% in FY24e and -22% in FY25e. Our target price is downgraded to A$3.20ps (prev. A$4.00ps) following these changes.
Investment view: Buy rating unchanged
SM1 has now been imbedded in a three year earnings downgrade cycle and is not without risk. However, if it can deliver acceptable returns on the new Pokeno nutritionals customer, successfully navigate A2M's new-GB registration and add new base powder customers then there is material operating leverage beyond FY23e profitability levels and this is what drives the expected earnings uplift in FY24-25e.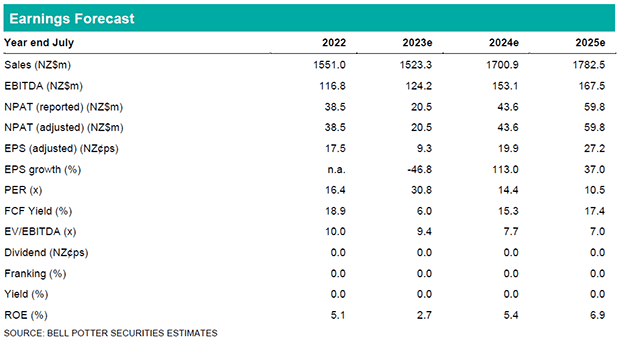 Authored by Jonathan Snape – Analyst – at Bell Potter Securities, 17 March 2023
Important Disclaimer—This may affect your legal rights: Because this document has been prepared without consideration of any specific client's financial situation, particular needs and investment objectives, a Bell Potter Securities Limited investment adviser (or the financial services licensee, or the proper authority of such licensee, who has provided you with this report by arrangement with Bell Potter Securities Limited) should be consulted before any investment decision is made. While this document is based on the information from sources which are considered reliable, Bell Potter Securities Limited, its directors, employees and consultants do not represent, warrant or guarantee, expressly or impliedly, that the information contained in this document is complete or accurate. Nor does Bell Potter Securities Limited accept any responsibility to inform you of any matter that subsequently comes to its notice, which may affect any of the information contained in this document. This document is a private communication to clients and is not intended for public circulation or for the use of any third party, without the prior approval of Bell Potter Securities Limited. In the USA and the UK this research is only for institutional investors. It is not for release, publication or distribution in whole or in part to any persons in the two specified countries. This is general investment advice only and does not constitute advice to any person.
Disclosure of Interest: Bell Potter Securities Limited receives commission from dealing in securities and its authorised representatives, or introducers of business, may directly share in this commission. Bell Potter Securities and its associates may hold shares in the companies recommended.