The company released a Q2 update showing June FUM of $5.8bn, rising from $5.5bn at end of March. This was well ahead of our expectation of $5.3bn, which was based on investment returns to the end of May. Within this FUM, net flows were $0.2bn, driven by flows into the Regal Private Credit Opportunities fund and the Attunga Capital Power and Enviro Strategy, which were not in our forecasts. Net inflows for the 12 months to June 2023 were $1.1bn and ahead of the company's target of $1.0bn.
Investment performance in Q2 was $0.2bn or 3.6% of opening funds, and was ahead of our expectations of -0.7%. Our forecast was based on an aggregate of individual fund performances to the end of May. We noted that four of the public funds had performed well in June, and this announcement shows the funds' performance in June was more broadly based than we expected. The company noted that performance fees are expected to be $7m for H1 FY23, which is within our expected range of $7-9m, derived from our bottom-up analysis of fund returns. The company expect other income (predominantly returns on shareholders seed capital) to be $9m in H1. This is above our estimate of $2.5m, higher due to the strong fund returns in June. The company also announced it has entered a $50m credit facility with HSBC, which provides additional funding for working capital and inorganic growth.
Investment view: BUY target price $3.68/sh
We continue to favour RPL over its peers as we expect future fund performance and inflows to be strong which should over time lead to growing FUM, management fees and performance fees. We have updated our model for the revision to FUM, and returns on shareholder funds, which sees our reported EPS forecasts increase by 0.2% for FY23, 6.0% for FY24, and 11.8% for FY25. We value RPL using a DCF valuation with a WACC of 10.3% applied to our forecasts for EBITDA, adjusted for tax and working capital. We value the company at $3.68 per share. ($3.45 previously). The company are due to report H1 FY23 results on 24 August.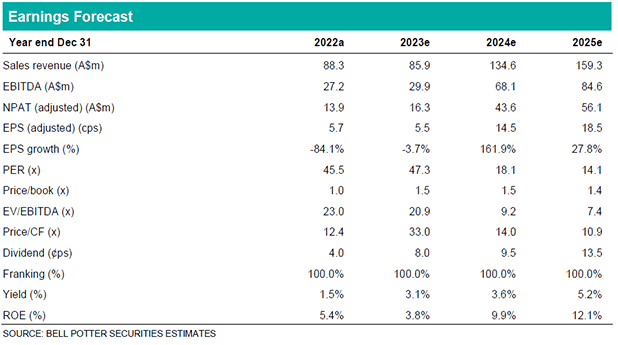 Authored by Marcus Barnard – Analyst – at Bell Potter Securities, 18 July 2023
Important Disclaimer—This may affect your legal rights: Because this document has been prepared without consideration of any specific client's financial situation, particular needs and investment objectives, a Bell Potter Securities Limited investment adviser (or the financial services licensee, or the proper authority of such licensee, who has provided you with this report by arrangement with Bell Potter Securities Limited) should be consulted before any investment decision is made. While this document is based on the information from sources which are considered reliable, Bell Potter Securities Limited, its directors, employees and consultants do not represent, warrant or guarantee, expressly or impliedly, that the information contained in this document is complete or accurate. Nor does Bell Potter Securities Limited accept any responsibility to inform you of any matter that subsequently comes to its notice, which may affect any of the information contained in this document. This document is a private communication to clients and is not intended for public circulation or for the use of any third party, without the prior approval of Bell Potter Securities Limited. In the USA and the UK this research is only for institutional investors. It is not for release, publication or distribution in whole or in part to any persons in the two specified countries. This is general investment advice only and does not constitute advice to any person.
Disclosure of Interest: Bell Potter Securities Limited receives commission from dealing in securities and its authorised representatives, or introducers of business, may directly share in this commission. Bell Potter Securities and its associates may hold shares in the companies recommended.