Strong 1H21 trading update, CEO transition announced
PMV recently provided an update on trading for 1H21, with the following key highlights:
Premier Retail 1H21 EBIT guidance (pre-AASB16) to be $221m-$233m: This is materially up between 75% and 85% on 1H20, well ahead BPe and consensus.
1H21 EBIT margin balloons to >28% vs 17.2% in 1H20: Outperformance vs BPe was primarily due to materially stronger than expected margins. Margins benefited from "exceptional" gross margin expansion & strong cost controls. We believe the key factors driving margin gains included: online growing to 20.4% of sales vs 13.4% in pcp (higher margin channel); Peter Alexander outperformance (higher margin brand); & opex leverage on strong cost controls incl. agreements on rent abatements. Also, PMV was eligible for JobKeeper up until end-Sept.
Robust sales performance: For the 24 weeks to 9 January, despite significant store closures, Retail sales increased 5.0% to $716.9m. Excluding store closures, global like-for-like (LFL) sales increased 18%, with Australian LFL up 26.2%. 1H21 online sales lifted 60% vs pcp to $146.2m (or 20.4% of Just Group sales).
PMV also recently announced CEO, Mark McInnes will resign after serving a 12-month notice period. During his tenure as CEO (>10 years at completion of notice period), Mr McInnes led the implementation of a strategic review (undertaken in 2011) that has since successfully rejuvenated the Just Group business, achieving consecutive YoY growth. His departure obviously raises leadership uncertainties, although we believe this will be well managed given: the relatively long notice period; the strong senior management team within Just Group; and Solomon Lew will oversee the transition.
Downgrade to Hold on valuation, revised PT of $23.90
A strengthening in our FY21 margins increases our FY21 EPS by 39.5%. We have made no material forecast changes in FY22/FY23. Including time-creep, our 12-month PT increases to $23.90 (previously $22.00). On the back of PMV's share price rally, combined with our view that current record margins and sales are not sustainable, along with some leadership uncertainties, we downgrade our rating from Buy to Hold.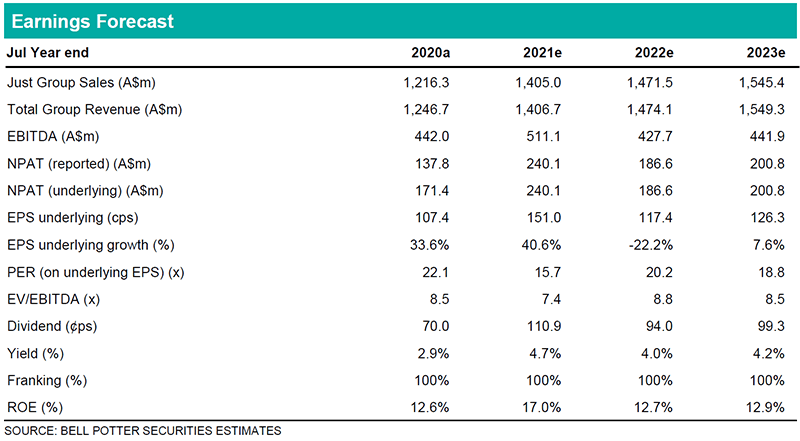 Authored by Sam Haddad – Research Analyst – Emerging Growth at Bell Potter Securities, 19 January 2021
Important Disclaimer—This may affect your legal rights: Because this document has been prepared without consideration of any specific client's financial situation, particular needs and investment objectives, a Bell Potter Securities Limited investment adviser (or the financial services licensee, or the proper authority of such licensee, who has provided you with this report by arrangement with Bell Potter Securities Limited) should be consulted before any investment decision is made. While this document is based on the information from sources which are considered reliable, Bell Potter Securities Limited, its directors, employees and consultants do not represent, warrant or guarantee, expressly or impliedly, that the information contained in this document is complete or accurate. Nor does Bell Potter Securities Limited accept any responsibility to inform you of any matter that subsequently comes to its notice, which may affect any of the information contained in this document. This document is a private communication to clients and is not intended for public circulation or for the use of any third party, without the prior approval of Bell Potter Securities Limited. In the USA and the UK this research is only for institutional investors. It is not for release, publication or distribution in whole or in part to any persons in the two specified countries. This is general investment advice only and does not constitute advice to any person.
Disclosure of Interest: Bell Potter Securities Limited receives commission from dealing in securities and its authorised representatives, or introducers of business, may directly share in this commission. Bell Potter Securities and its associates may hold shares in the companies recommended.