The Federal Government's Mortgage Guarantee Scheme
Hopeful first home buyers across Australia may now have their cake and eat it too, thanks to the Federal Government's Mortgage Guarantee Scheme.
The Federal Government's Mortgage Guarantee Scheme was originally announced ahead of the May 2019 election as the next in a line of schemes designed to assist first home buyers to get on the first rung of the property ladder. The basic operation of the scheme is that it would allow first home buyers to buy their own home with a deposit of as little as 5%. Generally, lenders require a 20% deposit, or an 80% Loan-to-Value ratio (LVR). Usually, where borrowers have deposits of less than 20%, they incur Lenders Mortgage Insurance (LMI) which is an additional charge to protect the lender against the increased risk of the borrower defaulting.
Under the scheme, the shortfall in the deposit would be guaranteed by the Federal Government. Importantly, the Federal Government will not contribute towards the deposit to reach the 80% LVR. Rather, the Federal Government will take on the cost of the LMI.
Further details of the scheme have been recently released and include:
The $500 million scheme will be run by the National Housing Finance and Investment Corporation (NHFIC).
Effective 1 January 2020, up to 10,000 first home buyers will be eligible for the scheme on a first-in best dressed basis with no allocations for particular regions.
The Federal Government will take on the cost of the LMI with the NHFIC being liable to compensate participating lenders where a first home buyer defaults.
A single first home buyer will have to earn less than $125,000 p.a. and a couple will need to earn less than $200,000 p.a. combined.
The buyer will have to have a deposit of at least 5%.
Only two of the Big Four Banks will be chosen to take part in the scheme and allocated 50% (5,000) of the loans. The other 50% of loans will be allocated to smaller lenders.
The mortgage needs to be owner-occupied with principal-and-interest repayments.
There are price caps on eligible properties depending on the locality of the property which is as follows: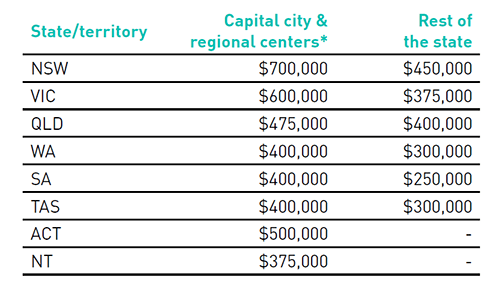 *A regional center is defined as a city with a population above 250,000.
As the scheme was an election promise and announced late in the election campaign it was light on details initially, however as more details were made public, concerns have arisen. These include the lack of detail around who the participating lenders will be and the possible increase in house prices as first home buyers compete for both a limited stock of eligible properties and one of the limited loan guarantee places.
As there is an annual cap of 10,000 guaranteed places, it is vital that a first home buyer is aware if they have the guarantee or not before they place the deposit. The industry is split on whether the scheme will actually help first home buyers or if it will just add additional pressure to people in an environment where prices are already on the rise.
The scheme presents an important planning opportunity for advisers with clients looking to enter the property market as the realisation may now occur sooner rather than later.
Our Technical Financial Advice team, in conjunction with a Bell Potter adviser can help you create a road map to achieve your financial goals, no matter where you are today. Whether you are looking for one-off advice or ongoing advice, our team can assist.
Get in touch with us to set up a complimentary initial appointment over the phone or in person across Australia.
Authored by Jeremy Tyzack – Head of Technical Financial Advice at Bell Potter Securities, November 2019
Important Disclaimer—This information was prepared by Bell Potter Securities Limited ABN 25 006 390 772 AFSL 243480 (Bell Potter) for use by Australian residents. This information is of a general nature and does not take into account your personal objectives, situation or needs. Before making a decision about investing, you should consider your financial requirements and if necessary, seek appropriate independent financial, legal, taxation or other advice. This information is believed to be correct at the time of compilation but is not guaranteed to be accurate, complete or timely. Bell Potter and its related bodies corporate do not accept any liability arising out of the use or distribution of this information. Shares should be considered a long-term investment which may be volatile over the short term and may fall in price. Past performance is not a reliable indicator of future returns.