First tranche: US$106m placement
NIC has completed a fully underwritten Institutional Placement of US$106m (A$148m) priced at A$1.37/sh. This is the first stage of a US$225m capital raising which comprises a further US$106m non-underwritten placement to Shanghai Decent Investments (SDI) a subsidiary of Tsingshan Group, NIC's partner at both Indonesian Morowali Industrial Park (IMIP) and Indonesia Weda Bay Industrial Park (IWIP). The raise also includes a ~US$13m (~A$18m) non-underwritten share purchase plan (SPP) for eligible shareholders. The capital raising will fund NIC's initial acquisition of a 30% interest in the Oracle Nickel Project (ONI), located within the IMIP, for consideration of US$159m. This is part of total consideration of US$525m (incl. shareholder loans of US$154m) for a 70% interest in ONI, to be completed by Q1CY23. NIC has now completed the Stage 1 acquisition, securing 10% of ONI.
Earnings growth profile de-risked and reinforced
This capital raising represents a key milestone in de-risking the funding of the acquisition of the balance of the 70% ONI interest. We anticipate the balance of NIC's consideration, which is scheduled to be completed in stages by end March CY23, will be funded by cash on hand, operating cash flows from NIC's existing NPI and laterite ore mining operations, supplemented by corporate debt. We view the ONI acquisition as highly value accretive, highly capital efficient and locking in an aggressive production and earnings growth profile that we do not see being matched in the sector.
Investment thesis – Buy, TP$1.83/sh (from $1.89/sh)
Our EPS forecasts are lowered 9% and 8% for FY22 and FY23 respectively on a combination of financing costs associated with the funding activities and the dilution of the equity raise. We lower our FY22 and FY23 dividend forecasts, reflecting dilution, increased gearing and capital investment phase. Our NPV-based price target is lowered 3%. We continue to forecast aggressive EPS growth of 78% and 84% for FY22 and FY23, on what we view as conservative production forecasts. NIC remains one of our top picks across the sector and we retain our Buy recommendation.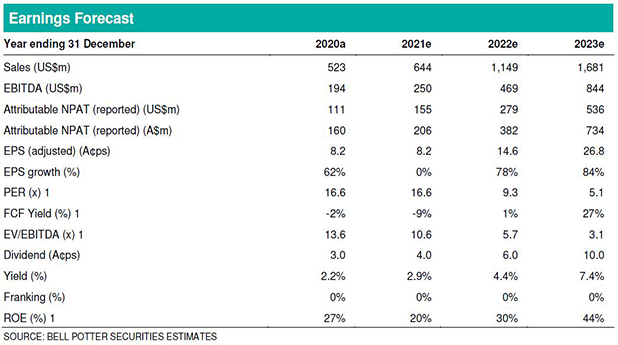 Authored by David Coates – Analyst – at Bell Potter Securities, 18 February 2022
Important Disclaimer—This may affect your legal rights: Because this document has been prepared without consideration of any specific client's financial situation, particular needs and investment objectives, a Bell Potter Securities Limited investment adviser (or the financial services licensee, or the proper authority of such licensee, who has provided you with this report by arrangement with Bell Potter Securities Limited) should be consulted before any investment decision is made. While this document is based on the information from sources which are considered reliable, Bell Potter Securities Limited, its directors, employees and consultants do not represent, warrant or guarantee, expressly or impliedly, that the information contained in this document is complete or accurate. Nor does Bell Potter Securities Limited accept any responsibility to inform you of any matter that subsequently comes to its notice, which may affect any of the information contained in this document. This document is a private communication to clients and is not intended for public circulation or for the use of any third party, without the prior approval of Bell Potter Securities Limited. In the USA and the UK this research is only for institutional investors. It is not for release, publication or distribution in whole or in part to any persons in the two specified countries. This is general investment advice only and does not constitute advice to any person.
Disclosure of Interest: Bell Potter Securities Limited receives commission from dealing in securities and its authorised representatives, or introducers of business, may directly share in this commission. Bell Potter Securities and its associates may hold shares in the companies recommended.