September 2021 quarterly report
MIN achieved good production performance, announced commercial production from the Kemerton lithium hydroxide plant by mid-2022, and that mining would restart at the Wodgina lithium mine in Q1FY23. The price received for its Mount Marion lithium
concentrate was double the average price received in FY21. However, this was overshadowed by a large contraction in iron ore demand (MIN's dominant revenue earning product over the last twelve months), the resulting iron ore price decrease, and increases in grade and quality discounts applied to MIN's ~58% Fe product.
Price realisation: fines, lump and magnetite
In the last year, MIN's existing iron ore operations were configured to maximise throughput by exporting all fines products. During the quarter, MIN made processing plant modifications to enable the flexibility to produce a proportion of lump iron ore (which attracts a price premium relative to fines). Longer term, MIN highlighted exploration work in the Yilgarn for magnetite resources, which are capable of producing ~65% Fe products.
Investment thesis – Buy, Target Price $50.45/sh
We maintain our Buy recommendation for MIN in accordance with our ratings framework. We forecast further iron ore price volatility and reductions towards lower long-term levels. In the next twelve-months there are a number of catalysts for MIN's
share price. News flow around strategically important iron ore export capacity expansions of up to 80 Mtpa in Western Australia is expected. In lithium, news is expected around downstream processing and recommencing production from Wodgina. Production testing of the Lockyer Deep 1 natural gas well is planned for Q3FY22, and further disclosures around MIN's energy business ambitions are expected, including additional exploration activities. Changes to our earnings estimates with this update include 50%, 18% and 17% decreases to FY22e, FY23e and FY24e respectively, resulting primarily from our changes to our forecast commodity prices and our forecast iron ore quality discounts.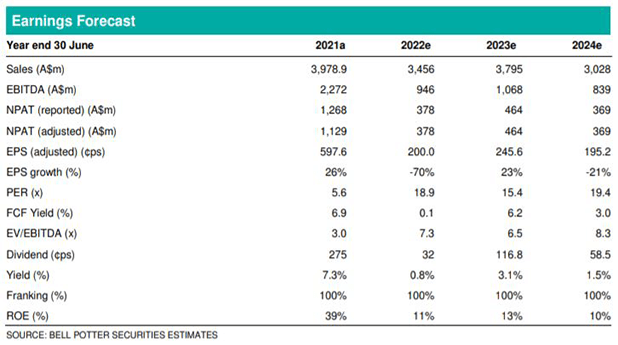 Authored by Brad Watson – Analyst – at Bell Potter Securities, 8 November 2021
Important Disclaimer—This may affect your legal rights: Because this document has been prepared without consideration of any specific client's financial situation, particular needs and investment objectives, a Bell Potter Securities Limited investment adviser (or the financial services licensee, or the proper authority of such licensee, who has provided you with this report by arrangement with Bell Potter Securities Limited) should be consulted before any investment decision is made. While this document is based on the information from sources which are considered reliable, Bell Potter Securities Limited, its directors, employees and consultants do not represent, warrant or guarantee, expressly or impliedly, that the information contained in this document is complete or accurate. Nor does Bell Potter Securities Limited accept any responsibility to inform you of any matter that subsequently comes to its notice, which may affect any of the information contained in this document. This document is a private communication to clients and is not intended for public circulation or for the use of any third party, without the prior approval of Bell Potter Securities Limited. In the USA and the UK this research is only for institutional investors. It is not for release, publication or distribution in whole or in part to any persons in the two specified countries. This is general investment advice only and does not constitute advice to any person.
Disclosure of Interest: Bell Potter Securities Limited receives commission from dealing in securities and its authorised representatives, or introducers of business, may directly share in this commission. Bell Potter Securities and its associates may hold shares in the companies recommended.