ANZ leads in 1Q22, UK step change expected from 2Q22
LBY made solid progress during 1Q22, reporting record Group Gross Merchant Value (GMV) of NZ$184m, up +58% YoY (annualising NZ$738m). The ANZ division achieved record GMV of NZ$88.2m, with the UK up 101% YoY to NZ$95.8m. UK customer growth continues to lead ANZ, which remains key for LBY as it continues to build scale, and ANZ saw strong new Merchant growth during the quarter. LBY remained well capitalised with a cash balance of NZ$36.5m.
Is LBY the most undervalued BNPL player?
In this report (page.4) we highlight that LBY is trading at a significant discount to its BNPL peers on both a Market Capitalisation to GMV and Active customer basis. LBY is a market leader in both the UK (No.3) and NZ, which represent strategic value, and we see increasing potential for the company to become a target for M&A activity.
UK retail spend represents ~2.0x that of Australia, and the market remains within relative infancy in the adoption of BNPL products compared to both Australian & the US. We see LBY's focus within this market as a differentiating factor within the BNPL market. LBY has positioned itself to deliver strong UK GMV & revenue growth in FY22 through recent partnerships with Rakuten Awin & Sovrn (which should drive higher engagement through access to ~5,000 merchants within the Laybuy App), this couples with the recent A$40m capital raising to support this growth runway.
Investment View: Buy (Spec) retained, Valuation A$1.20ps
We reinstate our Buy (speculative) recommendation on LBY with the company on track to achieve guidance to exceed NZ$1.0bn of GMV, and deliver 90%-100% revenue growth in FY22. At current levels we increasingly believe LBY's differentiated positon within the BNPL sector remains overlooked by the market and should begin to re-rate as the company continues to hit key milestones. Updating our forecasts following LBY's FY21 and 1Q22 updates, along with LBY's equity raising in May'21, we adjust our underlying EPS estimates by -4.1cps, -4.0cps and +0.5cps for FY22-FY24 respectively and reinstate coverage with a Valuation of A$1.20ps.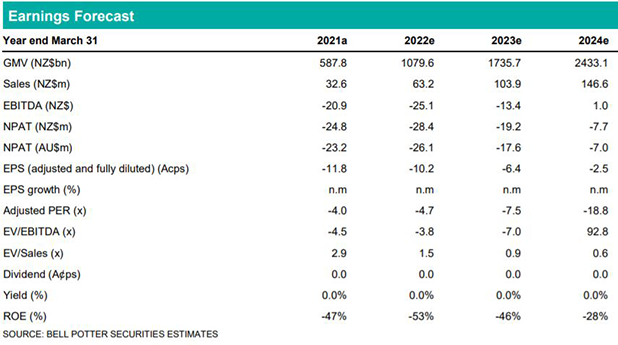 Authored by James Filius – Analyst – at Bell Potter Securities, 3 August 2021
Important Disclaimer—This may affect your legal rights: Because this document has been prepared without consideration of any specific client's financial situation, particular needs and investment objectives, a Bell Potter Securities Limited investment adviser (or the financial services licensee, or the proper authority of such licensee, who has provided you with this report by arrangement with Bell Potter Securities Limited) should be consulted before any investment decision is made. While this document is based on the information from sources which are considered reliable, Bell Potter Securities Limited, its directors, employees and consultants do not represent, warrant or guarantee, expressly or impliedly, that the information contained in this document is complete or accurate. Nor does Bell Potter Securities Limited accept any responsibility to inform you of any matter that subsequently comes to its notice, which may affect any of the information contained in this document. This document is a private communication to clients and is not intended for public circulation or for the use of any third party, without the prior approval of Bell Potter Securities Limited. In the USA and the UK this research is only for institutional investors. It is not for release, publication or distribution in whole or in part to any persons in the two specified countries. This is general investment advice only and does not constitute advice to any person.
Disclosure of Interest: Bell Potter Securities Limited receives commission from dealing in securities and its authorised representatives, or introducers of business, may directly share in this commission. Bell Potter Securities and its associates may hold shares in the companies recommended.