GOR reported revenue of $286m (vs BPe $281m), EBITDA of $119m (vs BPe $116m) and NPAT of $36.8m (vs BPe $42.3m). The result was in-line with our expectations for a slightly weaker financial performance, with the main differences being depreciation $60.2m (vs BPe $45.8m), and its effect on tax expensed. EBITDA dropped 70% and earnings dropped by 46% vs the pcp on lower production and higher costs, the result of previously reported processing maintenance issues and lower than average Ore Reserve gold grades. A fully franked dividend of 0.5 cents per share was declared for the 2HCY21. At the end of CY21 GOR held cash of A$131.5m and no drawn debt.
The midpoint of the CY22 guidance range (320 koz) represents a 30% increase in gold production over the CY21 result (246.5 koz), and will require improved performance in both processing plant availability and Ore Reserve gold grade reconciliation.
Investment thesis: Hold (from Buy), TP$1.70/sh (unchanged)
GOR's share price has appreciated significantly since the beginning of February ($1.33/sh), exceeding our price target, and reaching $1.835/sh in March. We consider that share price appreciation is mainly due to external macro factors that have benefited most Australian gold producers, with the S&P ASX Gold Index up +20% and the US$ gold price up ~7% over this period. Supportive macro factors include rising inflation and increased geopolitical risks driving the safe-haven trade in a period of broader market volatility. In accordance with our rating structure and forecast TSR of 3.9%, we lower our recommendation to Hold. EPS changes in this report are: CY22 – 16%; CY23 +3%; and CY24 +5%. This is driven by updated corporate cost and depreciation allowances.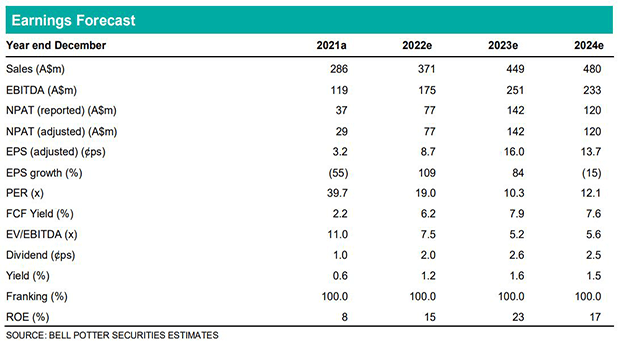 Authored by Bradley Watson – Analyst – at Bell Potter Securities, 29 March 2022
Important Disclaimer—This may affect your legal rights: Because this document has been prepared without consideration of any specific client's financial situation, particular needs and investment objectives, a Bell Potter Securities Limited investment adviser (or the financial services licensee, or the proper authority of such licensee, who has provided you with this report by arrangement with Bell Potter Securities Limited) should be consulted before any investment decision is made. While this document is based on the information from sources which are considered reliable, Bell Potter Securities Limited, its directors, employees and consultants do not represent, warrant or guarantee, expressly or impliedly, that the information contained in this document is complete or accurate. Nor does Bell Potter Securities Limited accept any responsibility to inform you of any matter that subsequently comes to its notice, which may affect any of the information contained in this document. This document is a private communication to clients and is not intended for public circulation or for the use of any third party, without the prior approval of Bell Potter Securities Limited. In the USA and the UK this research is only for institutional investors. It is not for release, publication or distribution in whole or in part to any persons in the two specified countries. This is general investment advice only and does not constitute advice to any person.
Disclosure of Interest: Bell Potter Securities Limited receives commission from dealing in securities and its authorised representatives, or introducers of business, may directly share in this commission. Bell Potter Securities and its associates may hold shares in the companies recommended.