ASIC Class Order [CO 13/721] (the Class Order) provides regulatory relief for Responsible Entities of an Exchange Traded Fund who limit withdrawals from a fund to Authorised Participants, resulting in non-compliance with the Corporations Act 2001 (the Act) through unequal treatment of members belonging to the same class. ASIC has now made ASIC Corporations (Amendment) Instrument 2021/299 to modify the Class Order which would see the removal of a regulatory barrier to entry for off-shore market-making entities seeking to participate in the Australian ETF market. The amendment means that Authorised Participants (APs) are nolonger required to identify as an Australian resident for tax purposes. ASIC formed the view that restricting entities to this category was unnecessary for consumer protection or market integrity reasons, instead finding that this delineation may lead to suboptimal outcomes for retail investors trading on the secondary market, particularly due to wider bid/ask spreads as a result of insufficient competition. We view this as a positive advancement for the industry, with lower market share dominance of APs foreseeably driving a reduction in investor transaction costs.
Figure 1 – ETF market structure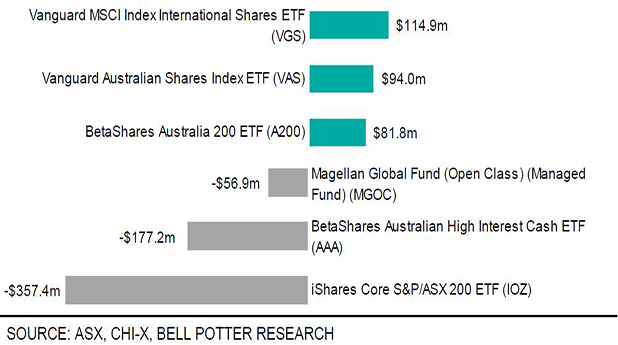 Figure 2 – Top ETF flows for June 2021
Figure 3 – Top ETF flows for 12 months ending June 2021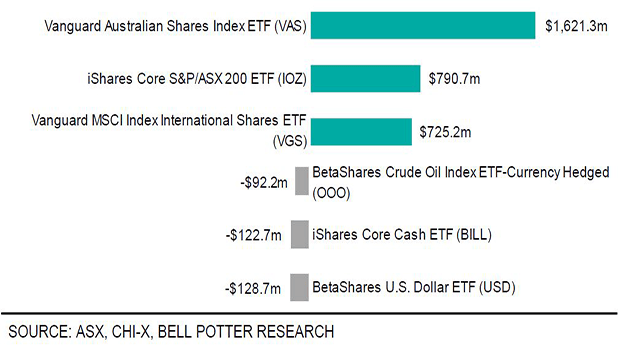 Figure 4 – ETF market size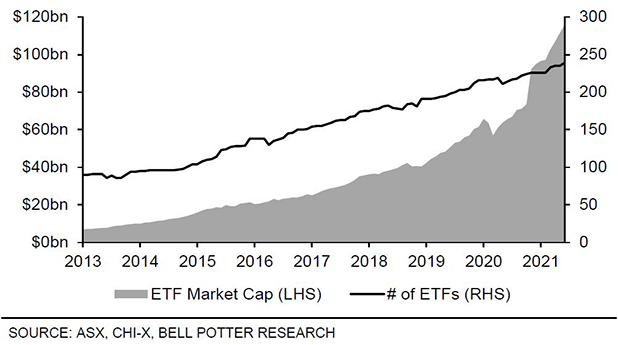 Figure 5 – Average daily volume and value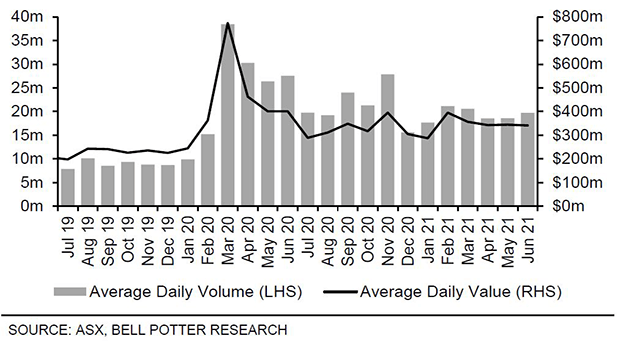 Authored by Hayden Nicholson – Specialist Exchange Traded Funds & Listed Investment Companies at Bell Potter Securities, 23 July 2021
Important Disclaimer—This may affect your legal rights: Because this document has been prepared without consideration of any specific client's financial situation, particular needs and investment objectives, a Bell Potter Securities Limited investment adviser (or the financial services licensee, or the proper authority of such licensee, who has provided you with this report by arrangement with Bell Potter Securities Limited) should be consulted before any investment decision is made. While this document is based on the information from sources which are considered reliable, Bell Potter Securities Limited, its directors, employees and consultants do not represent, warrant or guarantee, expressly or impliedly, that the information contained in this document is complete or accurate. Nor does Bell Potter Securities Limited accept any responsibility to inform you of any matter that subsequently comes to its notice, which may affect any of the information contained in this document. This document is a private communication to clients and is not intended for public circulation or for the use of any third party, without the prior approval of Bell Potter Securities Limited. In the USA and the UK this research is only for institutional investors. It is not for release, publication or distribution in whole or in part to any persons in the two specified countries. This is general investment advice only and does not constitute advice to any person.
Disclosure of Interest: Bell Potter Securities Limited receives commission from dealing in securities and its authorised representatives, or introducers of business, may directly share in this commission. Bell Potter Securities and its associates may hold shares in the companies recommended.