Further upgrades in forecasts
We upgraded our forecasts for Eagers following the Q1 trading update in mid April but have further reviewed our forecasts following an investor presentation released to the ASX in late April and another strong month for new vehicle sales in April which was released in early May. The net result is we have further upgraded our EPS forecasts in 2021, 2022 and 2023 by 16%, 7% and 7% which has been driven by further increases in our margin forecasts and, to a lesser extent, modest increases in our revenue forecasts. We now forecast underlying continuing PBT in 2021 of c.$375m – versus our previous forecast of c.$320m – which assumes stronger Q2 and Q3 results than previously forecast but still assumes some tapering of conditions in Q4. Our understanding is consensus for underlying continuing PBT in 2021 is around $330m – before our upgrade – so we are now well ahead of that.
Investment view: PT up 6% to $17.50, Upgrade to BUY
We have updated each valuation used in the determination of our price target for the earnings changes as well as market movements and time creep. There are no changes in the key assumptions we apply which are a 15% discount in the relative valuations and an 8.8% WACC and 3.0% terminal growth rate in the DCF. The net result is an 8% increase in our PT to $17.50 which is a 19% premium to the current share price so we upgrade our recommendation to BUY.
H1 guidance could be provided at AGM next week
Eagers is holding its AGM next week and the company could provide 1H2021 guidance which we believe could be a potential catalyst for the stock. We forecast underlying continuing PBT in 1H2021 of $204.1m which is up significantly on the $40.3m in 1H2020. If H1 guidance is not provided next week then we would expect a Q2/H1 trading update later in the half (i.e. around mid June) or in July when the result is known. Note Eagers said underlying continuing PBT in 1Q2021 was c.$98m so our 1H2021 forecast of c.$204m assumes a 2Q2021 result of c.$106m which doesn't seem much of a stretch given Q2 tends to be the strongest quarter for sales.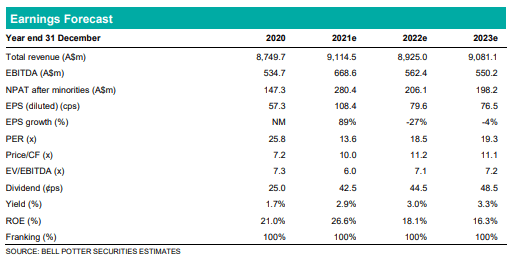 Authored by Chris Savage – Analyst – at Bell Potter Securities, 11 May 2021
Important Disclaimer—This may affect your legal rights: Because this document has been prepared without consideration of any specific client's financial situation, particular needs and investment objectives, a Bell Potter Securities Limited investment adviser (or the financial services licensee, or the proper authority of such licensee, who has provided you with this report by arrangement with Bell Potter Securities Limited) should be consulted before any investment decision is made. While this document is based on the information from sources which are considered reliable, Bell Potter Securities Limited, its directors, employees and consultants do not represent, warrant or guarantee, expressly or impliedly, that the information contained in this document is complete or accurate. Nor does Bell Potter Securities Limited accept any responsibility to inform you of any matter that subsequently comes to its notice, which may affect any of the information contained in this document. This document is a private communication to clients and is not intended for public circulation or for the use of any third party, without the prior approval of Bell Potter Securities Limited. In the USA and the UK this research is only for institutional investors. It is not for release, publication or distribution in whole or in part to any persons in the two specified countries. This is general investment advice only and does not constitute advice to any person.
Disclosure of Interest: Bell Potter Securities Limited receives commission from dealing in securities and its authorised representatives, or introducers of business, may directly share in this commission. Bell Potter Securities and its associates may hold shares in the companies recommended.
Lafitani Sotiriou, authoring analyst, holds long positions in APT.
Disclosure: Bell Potter Securities acted as a participant in the July 2020 $650m placement and ~$250m sell down and received fees for that service.