YTD pricing trends look reasonable
Our analysis of YTD wholesale, retail and export pricing suggests reasonable pricing outcomes across most categories, with key takeaways being:
Export citrus markets: At this stage of year there are modest export volumes exiting Australia (CGC highlighted in its May AGM update that only ~1% of the crop had been harvested). However, landed pricing trends in export destinations of Japan and China have been generally favourable YTD. YTD landed mandarin prices in China are up +17% YOY and orange prices landed in Japan are up +19% YOY. In addition we are seeing favourable fresh grape export prices, YTD up +8% YOY ex-Australia.
International blueberries: Through 1Q22 we witnessed Moroccan blueberry prices up +2% YOY in Euro terms, though we note the fade in Mar'22. At its AGM, CGC highlighted: (1) China has performed well with record production volumes, with late season pricing off as tier one cities were impacted by lockdowns; and (2) that Morocco saw favourable pricing across 1Q22 and then faded in 2Q22.
Avocado pricing: One of the largest swing variables in expectations for FY22e is the price for Avocados. May'22 pricing of QLD avocados in wholesale channels was up +$1.70/tray YOY in VIC and up +$7.40/tray YOY in NSW. Retail pricing has also demonstrated YOY gains the past five weeks, up on average +18% YOY over this time frame, a period that typically coincides with CGC harvest volumes commencing.
We have adjusted our interest rate assumptions in FY23-24e resulting in NPAT downgrades of 3% in CY23e and 5% in CY24e. Our target price is moderated to $3.75ps (prev. $3.90ps) reflecting a higher discount rate assumption in line with the changing macro environment.
Investment view: Buy rating retained
Our Buy rating remains unchanged. CGC has deployed ~$540m of capital since CY19 through the acquisition of citrus properties, development of berry acreage in Morocco and China and investment in mushroom and tomato capacity. A return on this investment is expected to be the main driver of earnings through to CY23e.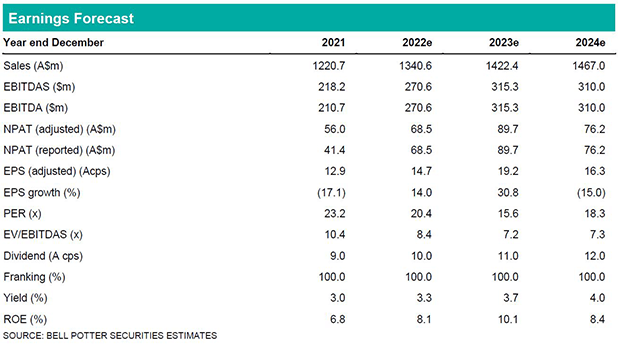 Authored by Jonathan Snape – Analyst – at Bell Potter Securities, 16 June 2022
Important Disclaimer—This may affect your legal rights: Because this document has been prepared without consideration of any specific client's financial situation, particular needs and investment objectives, a Bell Potter Securities Limited investment adviser (or the financial services licensee, or the proper authority of such licensee, who has provided you with this report by arrangement with Bell Potter Securities Limited) should be consulted before any investment decision is made. While this document is based on the information from sources which are considered reliable, Bell Potter Securities Limited, its directors, employees and consultants do not represent, warrant or guarantee, expressly or impliedly, that the information contained in this document is complete or accurate. Nor does Bell Potter Securities Limited accept any responsibility to inform you of any matter that subsequently comes to its notice, which may affect any of the information contained in this document. This document is a private communication to clients and is not intended for public circulation or for the use of any third party, without the prior approval of Bell Potter Securities Limited. In the USA and the UK this research is only for institutional investors. It is not for release, publication or distribution in whole or in part to any persons in the two specified countries. This is general investment advice only and does not constitute advice to any person.
Disclosure of Interest: Bell Potter Securities Limited receives commission from dealing in securities and its authorised representatives, or introducers of business, may directly share in this commission. Bell Potter Securities and its associates may hold shares in the companies recommended.