Investing in maturing acreage
CGC have announced a material investment in citrus properties and updated CY21e earnings guidance. Main highlights below:
Acquisition: CGC is to acquire the assets of 2PH farms, a 1,474Ha citrus plantation in Northern QLD, with a further 210Ha being planted over CY21-22e. The cost is ~$231m (+$19m in transaction fees), with $200m paid upfront and a further $31m due Jul'23 for the 210Ha to be planted in CY21-22e (and subject to conditions). Production on the existing orchards is forecast at ~30kt in CY21e, lifting to ~60kt by CY25e as orchards mature (63% yet to reach maturity). This excludes volumes from new plantings.
Funding and accretion: On a ProForma CY21e basis, 2PH is estimated to contribute $29m EBITDAS. The initial cash consideration is to be funded by a $190m renounceable entitlement offer and existing debt facilities. The transaction expected to result in ProForma CY21e EPS accretion of ~10%.
Earnings guidance (pre-acquisition): 1H21e EBITDAS guidance is $124m (vs. BPe $120m), slightly more positive than May'21 guidance and reflective of an earlier citrus harvest. CY21e NPATS is expected to be marginally ahead of CY20 of $55m (vs BPe $61m) excluding the 2PH acquisition. CY21e guidance reflects ongoing weakness in avocado pricing, stable YOY export citrus pricing and lower Arana yields.
We have updated our forecasts to include updated earnings guidance, the acquisition of 2PH and associated equity funding. The net impact is an EPS downgrade of -14% in CY21e, unchanged in CY22e, and upgrade of +13% in CY23e. Our target price falls to $4.30ps (prev. $4.60s) reflecting lower avocado earnings and dilution from the equity raising, offset in large by 2PH earnings.
Investment view: Buy rating retained
There is no change to our Buy rating. During CY21e, CGC has announced ~$273m of investments in maturing citrus orchards, which together with previous investments in mushrooms, tomatoes and International blueberries is creating an attractive tail of volume and profit growth through to CY25e.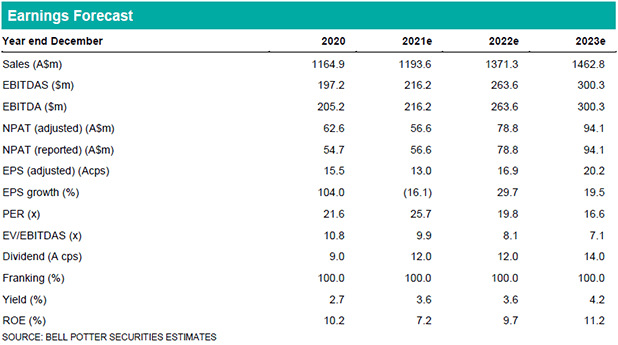 Authored by Jonathan Snape – Analyst – at Bell Potter Securities, 23 June 2021
Important Disclaimer—This may affect your legal rights: Because this document has been prepared without consideration of any specific client's financial situation, particular needs and investment objectives, a Bell Potter Securities Limited investment adviser (or the financial services licensee, or the proper authority of such licensee, who has provided you with this report by arrangement with Bell Potter Securities Limited) should be consulted before any investment decision is made. While this document is based on the information from sources which are considered reliable, Bell Potter Securities Limited, its directors, employees and consultants do not represent, warrant or guarantee, expressly or impliedly, that the information contained in this document is complete or accurate. Nor does Bell Potter Securities Limited accept any responsibility to inform you of any matter that subsequently comes to its notice, which may affect any of the information contained in this document. This document is a private communication to clients and is not intended for public circulation or for the use of any third party, without the prior approval of Bell Potter Securities Limited. In the USA and the UK this research is only for institutional investors. It is not for release, publication or distribution in whole or in part to any persons in the two specified countries. This is general investment advice only and does not constitute advice to any person.
Disclosure of Interest: Bell Potter Securities Limited receives commission from dealing in securities and its authorised representatives, or introducers of business, may directly share in this commission. Bell Potter Securities and its associates may hold shares in the companies recommended.