Victoria's cases falling above Western European extrapolation
After peaking at a 7-day average of 513, Victoria's new cases have fallen at a faster pace than the Western European extrapolation. This may be a result of Victoria's restrictions being far harsher and longer, or perhaps because of less community spread than most Western European nations. If the extrapolation is updated based on the latest week, 7-day average cases may fall to ~17 by mid-October.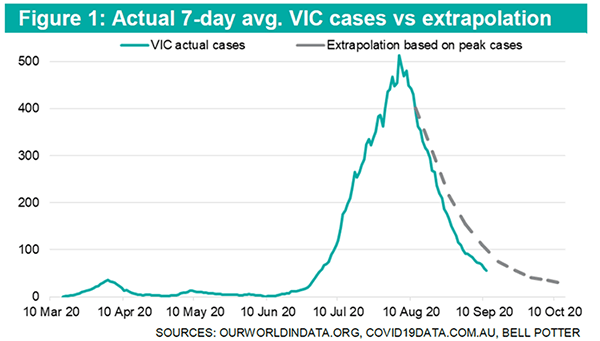 Roadmap leaves Victoria with permanent lockdown risk
Victoria does not plan to materially reduce restrictions unless 14-day average cases fall to less than 5. Across the 15 Western European nations we analysed, only a single nation, being Finland, was able to hit this metric, and it only managed to do so for 6 days. This highlights the difficulty in maintaining such a low level of transmission. This becomes even more challenging for Victoria given that its testing rates are amongst the highest in the world. NSW would even be in a full-lockdown under the Victorian model. This places Victoria at risk of permanent lockdown, or the frequent yo-yoing in and out of lockdowns as cases likely rise once restrictions are loosened.
Reigns given to those pushing for elimination
Abandoned by almost the entire world, Victoria's elimination strategy is being led by a small group of academics, with a study and associated modelling coming out of the University of Melbourne (UoM). We raise concerns with the study, including: the failure to acknowledge that no other nation in the world has permanently achieved elimination after having material community transmission; modelling assumptions that are vastly different to CDC best estimates; and whose core assumption (that a 6-week Stage 4 style lockdown could eliminate the virus in Victoria), has been completely debunked by Victoria's actual experience.
Victorian sovereign risk is extreme, will leave lasting damage
Victoria's current roadmap creates an extreme level of sovereign risk. The current approach will leave lasting damage, irrespective of whether initial targets are hit, as businesses know they could be shut down at any moment, and at just the slightest sight of a new outbreak.
Strategy requires input from broader voices
Victoria's strategy requires input from broader voices. In addition to elimination advocates, those who advocate for strict suppression, as well as a lighter approach, all need to be heard. A taskforce must be established to also include views from economists, business operators, and general practitioners, who see the depression, anxiety, delay to cancer screening, and impact of elective surgery delays first-hand. Only then can we put fear behind us, and develop a sensible and rational policy, for the benefit of all Victorians, and indeed Australia.
Authored by Steven Anastasiou – Analyst at Bell Potter Securities, 11 September 2020
Important Disclaimer—This may affect your legal rights: Because this document has been prepared without consideration of any specific client's financial situation, particular needs and investment objectives, a Bell Potter Securities Limited investment adviser (or the financial services licensee, or the proper authority of such licensee, who has provided you with this report by arrangement with Bell Potter Securities Limited) should be consulted before any investment decision is made. While this document is based on the information from sources which are considered reliable, Bell Potter Securities Limited, its directors, employees and consultants do not represent, warrant or guarantee, expressly or impliedly, that the information contained in this document is complete or accurate. Nor does Bell Potter Securities Limited accept any responsibility to inform you of any matter that subsequently comes to its notice, which may affect any of the information contained in this document. This document is a private communication to clients and is not intended for public circulation or for the use of any third party, without the prior approval of Bell Potter Securities Limited. In the USA and the UK this research is only for institutional investors. It is not for release, publication or distribution in whole or in part to any persons in the two specified countries. This is general investment advice only and does not constitute advice to any person.
Disclosure of Interest: Bell Potter Securities Limited receives commission from dealing in securities and its authorised representatives, or introducers of business, may directly share in this commission. Bell Potter Securities and its associates may hold shares in the companies recommended.